Dragonmasque's Clan
One day I will find the right words, and they will be simple
Clan Info
Hello, hello!
I favor monochromatic primaries with bright secondaries, but am branching into more 'earthy' combinations... especially when they accent nicely with gold. If a breeding pair produces a range you're looking for, please let me know and I'll contact you if I hatch out a baby you're seeking. Please note that any named, familiar'd dragons in my lair are not for sale.
PS: Hatchling letters are always welcome, and get return responses!
To Buy: ??? for Reisha
Beautiful art below!
By Khaliasama
By Jackalope
By Javin, commissioned by Oobilan
By Riserae, commissioned by Oobilan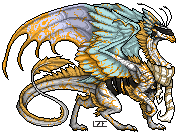 By Riserae. Check out her store
here
!
Recent Comments
I was just minding my business on the front page when all of a sudden, from the corner of my eye, I see The Iron Bull! Amazing Dragon Age dragon 10/10
We send our well wished to Taliv and Kesa. Beren has been enjoying our trip around the world and felt it best to say hello while we're 1 region away. We also extend assistance to Reisha to have the lair moved to one of the Lightning Farms if she wants.
that I would love getting accents for. let me know of a price and I'll work on it. (sorry, ran out of room)
No problem. I'm currently not sure if the accents/skins would work due to copyright issues (there are plenty of undertale related accents however so idk) so check out the rules on that first? I have a female tundra 'Lagombi' and a female ridgeback 'gore':)
I saw your Monster Hunter FR dragons on dA, they're amazing and I would love to have them as real skins/accents. XD
Delete this comment.
Report this comment.
Add this player to your Block list.
This user is currently active.
This user is currently idle.