Arcadaline's Clan
*Opens wallet and aethers flutter out*
Clan Info

Welcome to the Revenia clan, the clan existing on the boundary between dream and reality.
---
Hey! I'm a socially awkward dumdum who is a fanatic for all things retro and vintage. Especially animation!
I appreciate front page notices :D thank you in advance!
Fr time +8
Looking for:
Hit me up with your asking price if you have any for sale!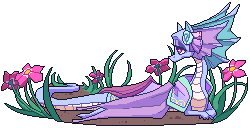 Recent Comments
Hi! I bought your Lovelace Glasswing accent. It's gorgeous! I love it so much.
Thank you for making it!
Sorry I declined your friend request initially ahsdgfjkhdgf I didn't see your comment at first and am jumpy about random friend requests
oh my gosh thank you for the kind words ; v ; you really made my day! my gene and apparel combos either took an eternity/all my money or were happy accidents! x )) I really love your dergs too <3 Maguslibri's clever arrangement really caught my eye!! *u*
Delete this comment.
Report this comment.
Add this player to your Block list.
This user is currently active.
This user is currently idle.