Slovakia's Clan
Tanganika is everything,I love her more than anything <3
Clan Info
Small note to mods/admins:I use multiple devices (4 devices in total) to play FR. I also tend to play FR in different places and also use VPN (for different reasons,not FR) from time to time. Thank you.
.
.
.
.


.

Finn/Kia . She/Her

.............

FR+9

.........

---

•

About Me (coming soon)

•

---

•

Wishlist

•

---

•

Status (Dragon+Vista combo):

•

Red = (very likely) Online

Blue = Offline,Idle,or Invisible

Orange (or

Yellow

)= Busy

Green = (very likely) Coliseum

Any other color = Just for fancy,or can't update status

---

•

Profile Template Thread

•

---
---
Note:I'm not using this to stalk anybody,look at IPs or any other way. I just like collecting flags of countries (and see how many I can get of the same flag). I don't care who sees my page.

CREDITS FOR INSPIRATION: Tanganika

Still waiting and hoping that my most favorite country (hint; it ain't Slovakia,but it's still an EU one) will appear someday...
BUT,I'm thankful for all the countries that appear here! Every single flag looks awesome in its way.

21/1: Achievement accomplished. Got the flag I wanted.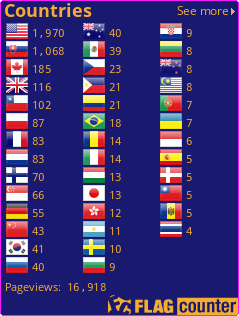 Recent Comments
Zoyki has just confirmed that the circle around Helsinki works fabulously as an eyecatcher/clickbait :DDD
Hiding silently in a room cause I dont want my sister to throttle me in her, twenty minutes to exam stress XD
The dramatic suspense I had when scrolling down that comment LOL for a second I thought you where going to end it with a forgot what I wanted to say ><
*Squints eyes* Now, now, now... What was that message you deleted hmmmmmmmmmm?/jk (you dont have to tell me XD)
Delete this comment.
Report this comment.
Add this player to your Block list.
This user is currently active.
This user is currently idle.