yukublack's Clan
I'm a Lazy Cat
Clan Info

---
other links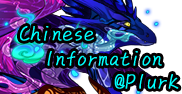 Recent Comments
Helloo! I just seen Gwayth on the front page and she's super pretty! (3
If I had enough I'd totally buy her; very beautiful lair you have in general too! :D
Ohh! You again!! Hello!! Thank you for buying both of my Fae siblings, Zinn and Xader! Do let me know if you plan to exalt them though! I'll buy both back for 20 gems through Crossroads!
Hi! I habitually watch the AH for old dragons, and I just wanted to let you know that the coatl you just bought is 7 years old! Worth trying to resell rather than exalting :]
Delete this comment.
Report this comment.
Add this player to your Block list.
This user is currently active.
This user is currently idle.