Cohena's Clan
~ Fate & Fortune ~
Clan Info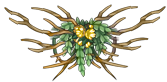 The Guild of Dark Fortune




Recent Comments
I love the ideas you have in your bios! They're so cool. I purchased one of Jago and Nalini's children [Jacaros] and thats so dope! I'm probably gonna make Jacaros an oc, and I'll base his appearance off of those two a lot!
I love Illumen's colors! Looks like a banana cream icecream! May I be pinged if you wanna sell any doule Bana Piebald/Paint babies?
Thanks for buying the triple banana Spiral! Also, your obsidian/azure/teal poison/toxin/glimmer Wildclaw is just gorgeous.
I just wanted to say that your Maple and Miika are an absolutely gorgeous pair and I love the new hatchling I got sooo much
hi again! Pinging for more coatl kids, tho not so many this time- the beige & sand girls are going to be around125,000t per/the soil 75,000t. they're on the last page of my lair, let me know if u want anyone !
hello hello! pinging as requested for my cryface/okapi coatl pair. there are 4 double obsidian kids on the 6th page of my lair- going to put up the soil kids at 75kt and the others at 110 tomorrow, so shoot me a cr for the price -10k if u want one! :D
Delete this comment.
Report this comment.
Add this player to your Block list.
This user is currently active.
This user is currently idle.