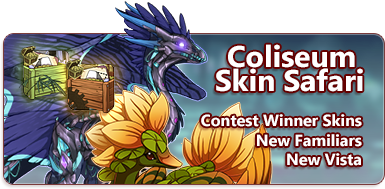 A collection of new enemy-themed skins created by our talented community are now dropping in the Coliseum. Will you find one during your hunts?
---
Coliseum Skin Contest Winners
We've drawn a few more
winners
from our most recent
Coliseum Skin Contest
!
Congratulations to:
@
BattleVegan
@
SexyGoatGod
@
timeblitz
@
DarknessDust
@
Moichao10
@
Sokkratees
@
VivviViola
@
Havic
@
JackSpicer
@
Tailgatescutie
@
SolarWitch
Their winning skins are now dropping in the Coliseum.
You can now loot the following skins in the
Golem Workshop
:


You can now loot the following skins in
Bamboo Falls
:
Gather up New Friends
Dragons with a
level 10 or greater skill
in
hunting
now have a chance to
gather these elusive familiars
.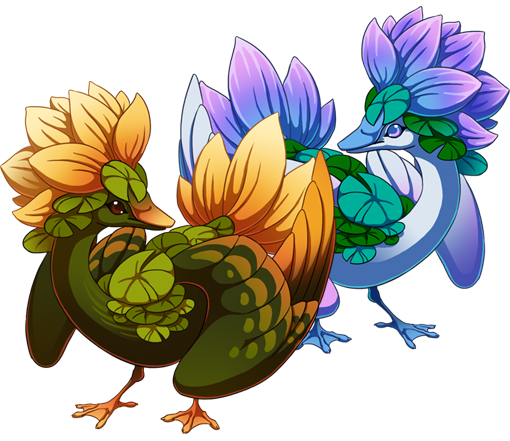 New Forum Vista
A successful chemist keeps their herbs and supplies well organized; a new vista has been discovered at
Baldwin's Bubbling Brew
! This recipe may only be undertaken by alchemists level 21 and above.
Coming Soon: Drakeharvest

We wanted to inform everyone of a "micro-holiday" we'll be running next week we're calling
Drakeharvest
.
Start: Monday, September 10th @ 6:00 Server Time
End: Friday, September 14th @ 6:00 Server Time
Drakeharvest will include a couple
new familiars
(they will
not
be exclusive to the event, just debuting then), a
50% coliseum experience boost
, and every current possible loot item that is
plant food
will drop more frequently than normal.
Because this is a limited time event, we wanted to make sure everyone was aware it was coming!
(NOTE: We have not yet made the decision on whether Drakeharvest will be a recurring micro-holiday)
Additional Updates:
Switching forum vistas is easier than ever! Preview all your vistas at once under Account Settings.
User Search should no longer only display one (1) page of search results.
The error window shown when a dragon name is ineligible has been reworded to be less confusing.
Several typos have been fixed.
Players will now receive an alert if a brew they started in Baldwin's Bubbling Brew has completed.
Flight Rising Developer
Project Management
|
Engineering Team Cheerleader
|
UI Designer