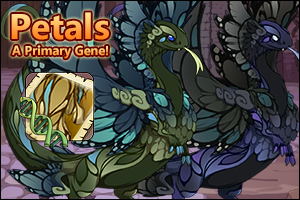 Swirling patterns and vibrant accent colors are beginning to appear on the scales of dragons!
Click here to read more about today's update
Petals: A New Primary Gene!
This newly discovered marking applies petal and teardrop swirls across the body of a dragon. This gene is now stocking in the
gem marketplace
!
Ghostlight Treasures
The denizens of
Ghostlight Ruins
are now carrying around unearthed treasures.
Gathering Additions
Dragon clans with a skill of 28 or greater in
digging
and 29 or greater in hunting now have a chance to harvest these new items!
Baldwins Brew Additions
Dicing and splicing have helped to revive species that where once extinct. There's no way this could backfire.
New Level 14 Recipes:
Wavecrest Saturnalia 2016 Skin & Accent Contest
A reminder that the third annual Wavecrest Saturnalia will begin April 24, 2016. To celebrate we are running a skin and accent contest honoring the water flight.
Click here for more information!

Python and Morph Gene Poll
In our latest
Words on the Wind
we ran a poll to determine how the Python and Morph genes would be distributed. It was a close poll start to finish, and in the end coliseum rewards won the vote. Python and Morph will be released with the rewrite of our coliseum, laying in wait until the battlefield is ready for them! Until then, we will continue to release genes at a regular pace.