It has been confirmed you are allowed to use the color red, but the rules are still absurd and contradict each other.
This is the most ridiculous thing I have seen on this site since joining. Examples and reasoning below.
Quote:
We don't allow images to be posted on our website that are any gorier than our existing official site art.
Ok this makes sense. This is a good rule to have.
Quote:
if you can't find bloody entrails and eviscerated corpses in our official site art, you shouldn't be submitting them as skin or accent designs.
But, I can....
(very clearly bloody, similar effects that can look even more gory can be achieved with other genes)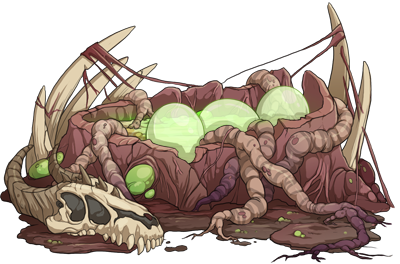 (Maybe not bloody, but those are clearly red entrails)
All-Seeing Eye
(The "tentacles" look like the things that come off of real detached eyeballs so this is very clearly gory)
(Red, on a corpse, that definitely looks like it was eviscerated... I mean, even the names of the item is kinda clear on what they are...)
I could probably find more examples but I am gonna move on from that quote.
Quote:
This is also why you can't use the color red or other blood-related hues in these designs. It changes the image from an undead creature to one that's alive and depicted as suffering. And we don't want that as an in-game item or on our website.
Tell that to Luminax. While most of the blood on their design appears like it might not have come from them, the two areas I circled a fairly clearly injuries to Luminax themselves. Luminax is undeniably undead, but they are shown to have a certain level of consciousness in the lore so there is not reason to believe that they can't suffer or feel injuries. Additionally, why can't players have zombies with red markings, especially if they are labeled as such, if the official site art can?
The post they made also ignores the fact that they have been known to deny accents with very minor scratches even though they are technically allowed. According to all of their rules these should be fine but they have been repeatedly denied in recent times. We have bloody bandage apparel, the meat cake (which has blood if you look closely) and many dragons that look like they are covered in blood (there is even a color called blood) so why is it that accents with very little blood are being denied?
My usual profile dragon-->