It brings me such joy to see dragons who have been adopted from my hatchery spoiled and doted upon. I have decided to celebrate them with a little spotlight and a custom award badge.
Dragon Spotlight Award #7
03/09/2021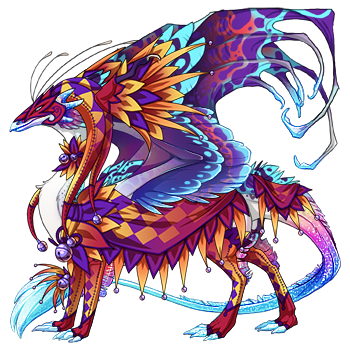 Shrove | #67389218
@makani
I couldn't help but showcase Shrove. This dragon, I feel, since the first day he grew to adulthood was dressed to perfection. He showed up in my Completed Orders list with his perfect little outfit, and his amazingly effective accent, and I had to swing by to see him in full resolution. I think this apparel was just made for him, and the accent colors are spot on! Excellent choice.

He is still pretty young, so I am sure there is more story to this boy than just his good looks. He is a show stopper for certain! Thank you so much for allowing me to share him!
Spotlight Award
Code:
[url=https://www1.flightrising.com/forums/drs/2904315][img]https://i.imgur.com/5vjGiHA.gif[/img][/url]

Each spotlight dragon will have a unique badge with their ID and matching colored Ice Crystal. This is a badge created just for this dragon, which you may use as you like. Thank you!