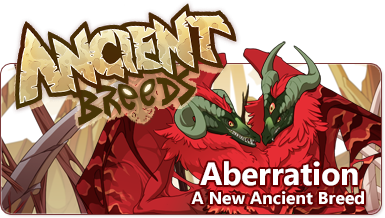 A breed never acknowledged, festers...
We're excited to announce that the next addition to our
ancient breeds
system, the
Aberration
, have now been launched. Ancient Breeds are a way for the
Flight Rising
team to
release more regular dragon content
, with a few
restrictions
to make that possible. You can read about the ancient breed system in our
Developer Update
on the subject.
Aberration
Once exiled and abandoned to endless change in the Wyrmwound, Aberrations have reemerged and found that they have become strong. These warped, bound pairs have been unleashed.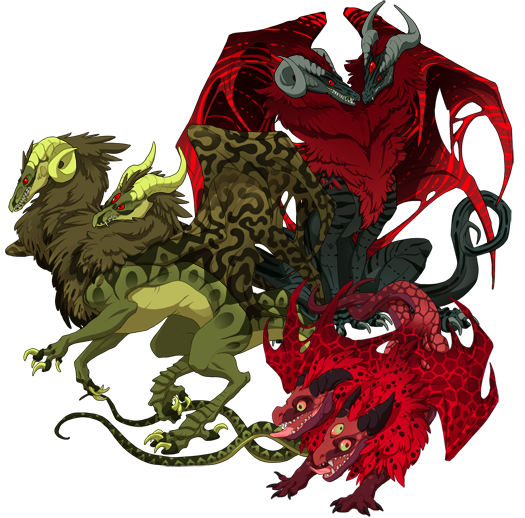 Aberrations are pleased with their evolution in the Wyrmwound and have moved to to testing themselves in the greater world by joining the clans of Sornieth!
You can read more about the emergence of Abberations in our short story,
Mistakes Were Made
, and gain some knowledge of their characteristics in the
Encyclopedia
.
If you're looking to change your dragons into Aberration, breed change scrolls will be stocking in the
Treasure Marketplace
.
To celebrate the debut of the Aberration breed, all active players can visit
Galore's Glorious Gifts
and pick up
two (2) free Clanbound Aberration breed change scrolls
to welcome these powerful predators into their lairs!
You will have until Wednesday, March 9th @ 22:00 server time to claim your gifts
.
Aberration Genes: Unique & Parallel
It wouldn't be an Ancient Breed release without an impressive slate of
unique
and
parallel
genes!
Unique Genes
You can pick up the following
unique
Aberration genes in the
Treasure & Gem Marketplace
:
You can create the following
unique
Aberration genes using
Baldwin's Bubbling Brew
:
You can find the following
unique
Aberration genes by battling monsters in the
Coliseum
:
You can find the following
unique
Aberration genes by trading items at
Swipp's Swap Stand
:
Parallel Genes
In addition to the unique genes above,
Aberrations can also exhibit parallel genes
that resemble those found in modern dragons. These genes will be available through the same type of gameplay (with the exception of ground and fissure) that their modern counterparts are. The
parallel genes
releasing today are:
Aberration Forum Vista
You can show off your newfound Aberration appreciation by sporting the following
forum vista
, now available in the
Treasure Marketplace
:
New Emojis
A set of volatile
Aberration emojis
are now available!