Click or tap to view this dragon in Predict Morphology.
Expand the dragon details section.
Collapse the dragon details section.
---
Personal Style
Apparel
Level 15 Fae
---
Biography
---
progen, Invader Zim fandragon
---
-Angery Bug™
-favorite color is purple. If it's purple, he probably has a hoard of it stashed away somewhere
-yelling is an emotion
-if u talk loud enough u dont have to deal w ur problems :)
-stubborn
-easily carried away
-still adjusting to 'normal dragon' life, and gets homesick sometimes... the only ones he'll ever talk to about it are Dib and Tak
-he's actually kinda funny and nice, once he lets his guards down.
-secretly loves to sing

-Zim is an alien- an irken (ex)invader
-the irkens in this clan look very similar to fae, with a few differences
—antennae
—expressive, non-monotone speech
—an irken PAK

-Tak's mate
-very protective over GIR

-is on friendly terms with Dib, and they hang out often- though they still butt heads a lot and argue Very Loudly about silly things
-they're actually... kinda close, despite that. why that is is a complete mystery to the rest of the clan, since they kinda hated each other's guts when Dib first arrived here.
-it's pretty common to see shouting matches between the two dissolve into fits of laughter



---
hoard:
---
closet:
Zim
Invader's Blood
it cold
---
---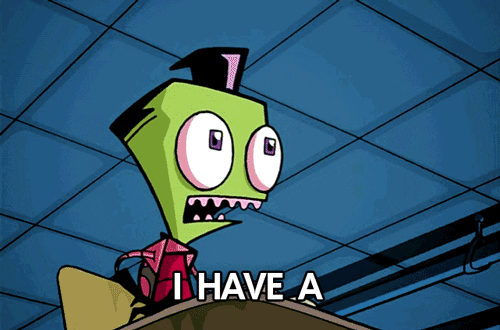 ---
IZ Fandragon collection:



















Fan characters:




Fandragons' kids:



---
Non-Invader Zim Fandragons and References:










---
future fandergs & images:
Name
-scry/ideas
-img
-
-
???
-
-
- :]
"Hmm I need more cute green fae" "hmmMM LET'S JUST INVENT A WHOLE BUNCH OF INVADER ZIM OCS"
Need more random aliens besides irkens and vortians for resisty group
GLOWY MEEKROB FAE
Tallest (probably not but we'll see)
random irkens for breeding pair
bc i definitely need more bugs..
if done- get wildclaws, mirrors, skydancers, ridgies, nocs?
random vortians for breeding pair..?
i just like to see the purple-y spirals idk lol
if done- get grey-range pair + purple-range pair; breed for greys/purples, or crossbreed for mixed colors!
hey I wonder if I could start a hatchery with all this nonsense yeah.
---
Art
by me
idk lol
lil bug
-
by others
---
Click or tap a food type to individually feed this dragon only. The other dragons in your lair will not have their energy replenished.
Insect stocks are currently depleted.
This dragon doesn't eat Meat.
This dragon doesn't eat Seafood.
This dragon doesn't eat Plants.
Exalting ZiM to the service of the Arcanist will remove them from your lair forever. They will leave behind a small sum of riches that they have accumulated. This action is irreversible.
Do you wish to continue?
Names must be longer than 2 characters.
Names must be no longer than 16 characters.
Names can only contain letters.
Names must be no longer than 16 characters.
Names can only contain letters.