Click or tap to view this dragon in Predict Morphology.
Expand the dragon details section.
Collapse the dragon details section.
---
Personal Style
Apparel
Skin
Scene
Level 10 Wildclaw
---
Biography

⚔ C R O N I N ⚔
Lives in the arcanaeum
| Gentle
| Sweet
| Magical




Cronin has lived in the clan since its early days, and hasn't changed much in the years he's been here. He studies magic in the arcanaeum and has a collection of pressed flowers of every species he's found in his few travels. He prefers to stay around his home and live a quiet life, studying the stars and learning from the many magic tomes within the tower where he resides.
His favourite place to read (and the easiest place to find him) is in the flower field west of the clan, where the smell of exotic flowers hangs heavy in the warm air and the buzzing of bees reminds you of the life that exists all around. He's a very happy and carefree dragon, and tries to make friends with anyone who comes across his path, including plants and animals. He's come home with more than one new familiar just from going out to read for a short time.

Cronin's most important contribution to the clan is his enduringly positive attitude - he can cheer up nearly anyone, and has an incredibly pure and youthful soul. His first line of defense when he sees a sad dragon is to pull out his flower book and show them his favourites, and if that doesn't work, he'll take them someplace peaceful to get their mind off things, and listen to what they need to say.
He tends to avoid the woods because he doesn't like enclosed spaces, but will occasionally venture there if he wants to watch the birds and animals that live there. In his spare time, he records all of his findings about the local wildlife and adds it to the clan's wealth of collected knowledge. He's discovered more than a few species of flowers that were previously unknown, and also helps Lupine, the clan's florist, find the best places to collect specimens for their flower arrangements.






~~



STR

~~

INT

~~~

WIS

~~~

CHA

~~

AGI

~~~

VIT

~~~

PWR LVL
15

~~

~~

50

~~

~~

50

~~

~~

75

~~

~~

30

~~

~~

40

~~

~~

260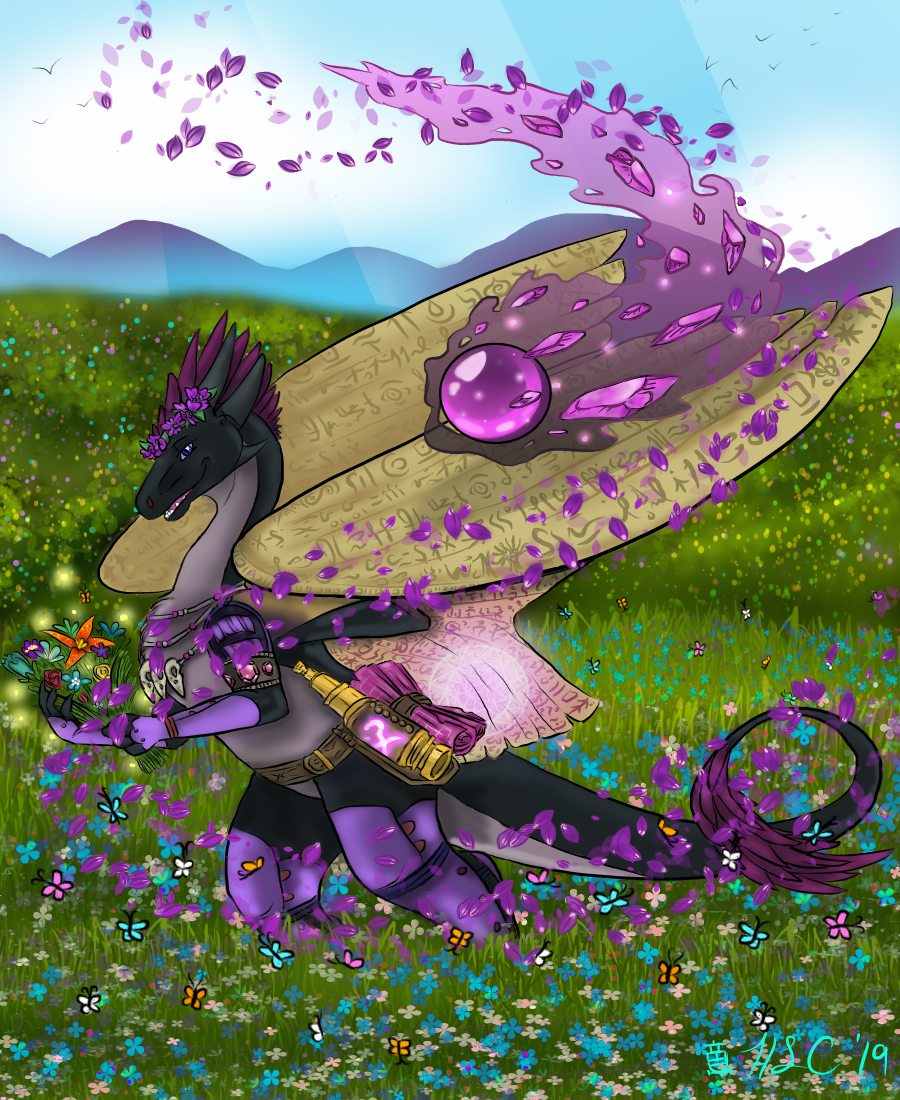 Art by Midnightpinto
Art by After
Adopt by me
Art by PolarMo |
Full size
Art by Emberglo
Large version
Art by
Powell
Art by
Match
Art by
WillowCross
Art by Pyromanticism
Art by Wayshrine |
Large version
Art by MothiestNihil
Click or tap a food type to individually feed this dragon only. The other dragons in your lair will not have their energy replenished.
This dragon doesn't eat Insects.
This dragon doesn't eat Seafood.
This dragon doesn't eat Plants.
Exalting Cronin to the service of the Lightweaver will remove them from your lair forever. They will leave behind a small sum of riches that they have accumulated. This action is irreversible.
Do you wish to continue?
Names must be longer than 2 characters.
Names must be no longer than 16 characters.
Names can only contain letters.
Names must be no longer than 16 characters.
Names can only contain letters.