Click or tap to view this dragon in Predict Morphology.
Expand the dragon details section.
Collapse the dragon details section.
---
Personal Style
Apparel
Measurements
Genetics
Silver
Crystal
Coal
Shimmer
White
Smoke
Level 1 Fae
---
Biography
Αρτεμις
Goddess of the Hunt, Twin Archer of the Moon







"ARTEMIS was the great Olympian goddess of hunting, wilderness and wild animals. She was also a goddess of childbirth, and the protectress of the girl child up to the age of marriage. Her twin brother Apollo was similarly the protector of the boy child. Together the two gods were also bringers of sudden death and disease--Artemis targetted women and girls, and Apollo men and boys."

The children of Leto and Zeus, Artemis and her twin brother Apollo were both gods associated with archery and also represented the Sun and the Moon, with Artemis as the moon. Artemis was one of the virgin goddess, meaning she would never marry or have relations with men, and she also protected other girls who felt the same. Namely, she had an entourage of huntresses, composed of girls who wished to join her and swore off the love of men, and in exchange for pledging themselves to hunting with her, Artemis made them all eternally young as long as they remained in her hunting party.

She also blessed many famous huntresses- even those who weren't her loyal hunting-companions- with heroic abilities, such as granting the princess Daphne the gift of straight-shooting, gifting the princess Kyrene with two potentially magical hunting dogs, and even helped one of her former huntresses, Prokris, recapture her husband's affection after he had fallen in love with the goddess Eos instead.

One story that Artemis is rather famous for is the story of the hunter Aktaion, who snuck up on her bathing and was turned into a stag as punishment. She then drove his fifty hunting dogs into a frenzy, and they hunted down their master- now a stag- and ate him. The stag is an important symbol of Artemis, as are the bow and arrow and the moon.

For more mythology surrounding Artemis, read here.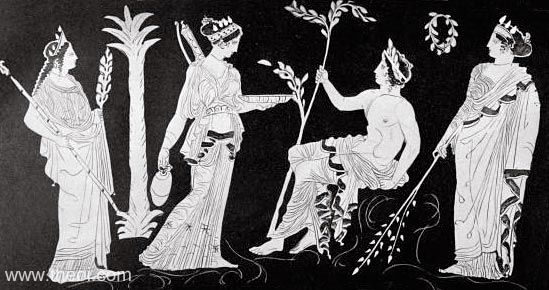 (Artemis is second to the left, in front of her is her brother Apollo)
Click or tap a food type to individually feed this dragon only. The other dragons in your lair will not have their energy replenished.
Feed this dragon Insects.
This dragon doesn't eat Meat.
This dragon doesn't eat Seafood.
This dragon doesn't eat Plants.
Exalting Artemis to the service of the Lightweaver will remove them from your lair forever. They will leave behind a small sum of riches that they have accumulated. This action is irreversible.
Do you wish to continue?
Names must be longer than 2 characters.
Names must be no longer than 16 characters.
Names can only contain letters.
Names must be no longer than 16 characters.
Names can only contain letters.