Jekra's Clan
JORT STORM, JORT STORMS COMIN TONIGHT. JORT STORM, IT'S A CA
Clan Info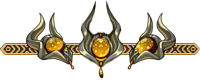 || Jekra / Jek ||
|| She / Her || 19 | FR +8 ||
|| Derse Prince of Time ||
|| Wishlist ||

|| Art shop || Sales Tab ||
|| ToyHouse || Instagram ||





Hello!! I am Jek. I'm just a silly goofy guy.
I like collecting pretty dragons to breed, and a lot of my non breeding dragons are based off characters for one of my fantasy worlds haha.
I am am an Artist and Writer, and love making way too many OCs and rotating them around in my head. I have a bunch of fandom OCs and OCs specifically for my own worlds :D





I'm always open to chatting! here's a few of my interests, maybe we share some? The bolded ones are my main interests rn :]

Homestuck || Arcane || Hollow Knight || Resident Evil (7/8)

Cookie Run || Stardew Valley || Cult of the Lamb || Minecraft

Wings of Fire || Doctor Who || Fullmetal Alchemist || Soul Eater

Death Note || Viva Pinata || Red Dead Redemption || Doll Eye

Satellite City / The August Few || Bloodborne || Dungeons and Dragons





A note to self -
No notes yet..

A note to the mods -
I play on multiple devices, and move from my mums house and my dads house a lot- please do not punt me like football

Image assets by Poisonedpaper :]



Recent Comments
I love your pair Alexander/Alexandria. Alexandria used to be one of my dragons- I remember picking a name I thought fit well! Both of them seem very loved, which makes me so happy!
Gingersnap is such a cute name for the dragon you bought off me, thanks for buying them! <3 well wishes, NectarSong
Delete this comment.
Report this comment.
Add this player to your Block list.
This user is currently active.
This user is currently idle.