Omalleycat's Clan
Where the wild things are
Clan Info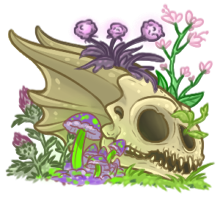 Egg count hoard for halloween: 5
Vagabond Chasm
There has always been a need for the transfer of goods in northwestern Sornieth, yet for decades, this was unattainable. As years passed, brave dragons would attempt travel between the realms of the Gladekeeper, Shadowbinder, Earthshaker, and Plaguebringer. However, this rarely ended well for the dragons in question. Eventually, two Tundra's established a trading post of sorts within a ravine at the border of the four realms. These Tundra, known as Omalley and Grimalkin, fortified this ravine, and made it a safe haven for travellers, a sanctuary of sorts. And lo, the Vagabond Chasm was born.
As the Chasm grew in population, it became a renowned marketplace in northwest Sornieth. Dragons of all flights now bring whatever goods they care to sell, be it food, clothing, or any oddity imaginable. The economy of the region skyrocketed as goods of all kinds changed hands at the Vagabond Chasm. The Chasm has another, more secret side business: The members shelter those deemed outcasts and outlaws by their former clans. The permanent members of the Vagabond Chasm have very little in common, nor do they need to; they all simply seek to survive.
aaaaaaaaaaaaaaaaaaaaaaaaaaaaaaaaaaaaaaaaaaaaaaaaaaaaaaaaaaa
Instagram
Welcome to my lair! I love to draw and give my dragons weird headcannons. If you have any questions regarding buying/trading art or dragons, feel free to shoot me a message.

Navigation through the lair:
1st page: leader figures and dragons that work directly under them
2nd page: Vendors
3rd page: legal system
4th: dragons that live on the outskirts of the Chasm
5th: Black Market (outlaws)

Fully gened gen1 dragons(excluding progens):
Phantomrosis
Queeny
Hex
Savant
Flicker
Ursula
Shiitake
Shiver
Mishka
Midori
Owl
Vanille
Clay
Edgar
Dismal
Eski


Art credit not included in bios but given here

https://photomosh.com awesome

Osiems resources used

And skull+candle used https://nimrook-fr.tumblr.com/post/179424813701/hey-folks-im-trying-to-bust-up-my-art-block-and
Recent Comments
Didn't feel like bumping up a closed thread, but I just wanted to thank you for drawing my plaguey boy!! It made my day <3
I do like it! I hope you don't mind if I incorporate your lore for into my own? As an inspiration of course and I will credit you!
It was fun on dc, also modded on fc for 6 months but that went horribly lmaoo. My user is Spinoride on ig! I'm more active there than anywhere xD
BRO IS THAT YOU frOM dRWCasT it's ms Canadian

I think we were friends on here before but I went super inactive and unfriended a lot of ppl

If not I'm so sorry for this lmAo
Delete this comment.
Report this comment.
Add this player to your Block list.
This user is currently active.
This user is currently idle.