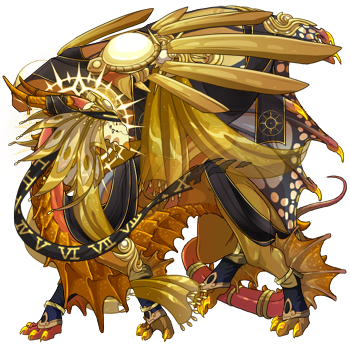 ---
"Welcome to the Archives.
May Tephra's dying light shine on all of us. Greetings--I am Hestia of Clan Pendulum; Archivist and follower of the fire that moves in eternal motion.

I understand you have chosen to come here in pursuit of the very knowledge that builds the pillars of Pendulum's foundation. I bid you both luck and great caution; the path that you desire to follow is full of many twists and turns. This very lair was modeled after such an allegory--the great Leviathan Maze is a labyrinth where the love of Gods comes to die. I cannot promise you fulfillment or greater purpose as result of your expedition but given the circumstances I trust you knew this already.

The halls of my clan's archive are long and seeped with knowledge of tales of a time long before either of our hatch days. The further you look the more you may encounter and regardless if the stories attack or welcome you the one rule I hold firmly is that of preservation: under no circumstance are you to harm these tomes or their pages. Should I find you encroach on the privileges I have given you I will see to it not even the purifying truth of Tephra's words can save your soul.

Lastly I implore you to consider this: the royal majesties Nyx and Raine hold you in high regard to allow one as yourself access to these grounds:
Do not betray their trust."
lapis+rose
23 ae/aer/aers
auxillary: they/them
or she/her
some dragons are off limits for lair games - please check their profile prior to selecting, thank you! please ignore all dragons past luther on page 5.

formerly 'pengy' | name changed 10/26/2017
symbiotic shade subspecies