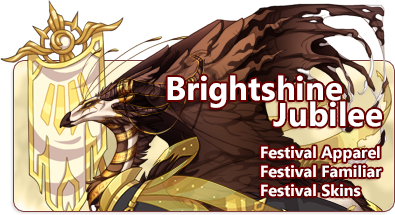 This month, all of dragonkind come together to participate in the
Brightshine Jubilee
. This festival celebrates the
light flight
. Our most prized possessions,
Immaculate Tablets
, can be found by using any gathering profession in the light territories this week. Neutral and light-aligned monsters also have a chance to rarely yield these items as drops
in the Coliseum.
They may be crafted at
Baldwin's Bubbling Brew
using alchemy reagents.
---
The
Festive Favors holiday stall
is now open for the duration of the holiday and you may trade in
Immaculate Tablets
for exclusive items. It will remain open until the holiday comes to a close on
Sunday, June 30, at 06:00 server time
.
Joxar's Spare Inventory
With a new year of festivals now in swing, Joxar is expanding his inventory. Dragon clans should be on the lookout for new finery. (
We will be doing Joxar familiar recolors after all of the gem guardians are released so we can do an elemental swap like the nymphs!
)
Brightshine Jubilee Skin & Accent Contest
The results are in. Congratulations to all of our winners!
For the remaining duration of holiday,
12
of these skins will be
stocking in the Treasure Marketplace
and
six
of them will very rarely
gathered by digging in the light territory
or by battling in the Coliseum.
2
of these skins will be exclusive to
Baldwin's Bubbling Brew
.

There were so many amazing entries, we had to take note of several
honorable mentions
. A special thanks to:

Additional Updates:
Summer Swelter apparel and Vista: Summer now have a chance of stocking in the Marketplace. Happy solstice!
The 2019 Thundercrack Carnivale will begin July 28th at 06:00 server time & end August 4th at 06:00 server time.