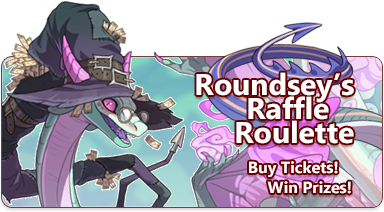 Step right up and try your luck at
Roundsey's Raffle Roulette
, a new
weekly raffle
where you can buy tickets for a chance to win fantastic prizes, including
rare items
and
first generation dragons
!
---
Roundsey's Raffle Roulette
Roundsey is kicking off her inaugural raffle today with the addition of this new
Trading Post
activity. This feature is a
weekly raffle
that players can participate in to have a chance at
winning one of several items or even dragons
. Prizes may even include
rare or retired items
!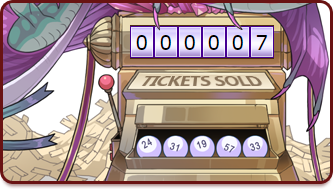 Roundsey's selection of prizes
changes every week
and entering the raffle is easy: Visit her space at the Trading Post to see what she's offering. If any of the prizes interest you, buy tickets with treasure to enter the raffle. That's it!
Raffle Schedule
Roundsey kicks off her raffles starting
every Wednesday at 00:00 server time
(during the nightly rollover maintenance) and they always run for
one full week, until the following Tuesday at 23:59 server time.
While the raffle is in progress, you can check how much time is remaining in the top right corner of the page. As long as you get your tickets purchased before the raffle finishes, you'll be considered!
Tickets & Prizes
Each raffle ticket is
500 treasure
, and you can buy as many as you'd like! The more tickets you have, the higher your chances will be, but every player is
limited to winning one (1) prize each week
. When rollover hits, Roundsey will draw winners by highest value prizes first; once those winners are determined, Roundsey will continue down the list until all prizes have been pulled for. After all winners have been chosen, each will receive a private message with their prize attached.
NOTE
: When determining the winners of
dragon prizes
, Roundsey will only select from a pool of eligible players. To be eligible for the dragon prizes,
you will need to have an empty slot in your lair when rollover hits
, as the dragon will be
automatically placed there
when awarded.
FAQ
Will Roundsey flood the market with retired items?
No. Roundsey's prizes are
finite
in number, meaning that the exact amount will be determined by the development team each raffle. The prize awarding functionality
will not increase the current available count of any given item by even 1%
and allows for us to offer exciting prizes without devaluing those already in circulation.
If Roundsey will have retired items, does that mean Imperial breed change scrolls or Imperial dragons?
No, Imperial breed scrolls and Imperial dragons will not be offered as prizes in the raffles. Our reason for this exclusion is straightforward: In order to ensure the smallest possible impact to the existing economy, we can't bring this item back or add new First Generation Imperial dragons, as they have an inherent and immediate influence on the dragon population and breeding market.
Okay, but how about items from the Kickstarter?
As a team, we do not want to increase the amount of these items beyond those that already exist. These items are rewards and thank you gifts to our earliest supporters. If a Kickstarter item becomes an available prize, it will come from the existing count, meaning that they will be
voluntarily donated
from play (non-developer) accounts of the
Flight Rising
staff and those of our friends and family.
What makes prize dragons different from unhatched eggs?
Dragons that can be won at Roundsey's Raffle Roulette will be first generation, but will also be
staff-designed
. You not only have a chance at new dragon, it will have
genes, colors,
and
eye types
.
These are examples, your dragon mileage may vary!
Does this replace player-run raffles? Do you plan to create a raffle system that players can utilize?
At this time, Roundsey is a new weekly feature that the development team will run. While we don't have plans for a structured/custom raffle system that players can use, you can absolutely still run their own raffles for
Flight Rising
items, dragons, and currency via the forums.
Flight Rising Developer
Project Management
|
Engineering Team Cheerleader
|
UI Designer