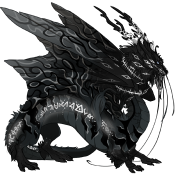 Welcome! I make skins and accents once in a blue moon here.
1- Info
2- Current pre-orders and sales
3- Gallery
4- Custom Skins/Accents
5- Featured dragon & Affiliates
---
Payment will be accepted when the accent/skin is actually printed. I will ping you when it comes in and you have up to a week to pay through PM or CR before your copy goes into the AH.
I will write you down as paid if you pay ahead of time but you are in no way obligated to until I have your accent in my inventory!
My gem to treasure ratio is
1:1000
right now!
Add yourself to my pinglist here!
To be removed from my pinglist just ping me here and ask.
they/them
FR+2