Does anyone else imagine little scenes playing out in your lair with a few specific dragons? Not necessarily huge story/lore things, but just little tiny scenes that could happen on any given day.
Here are some examples:
Julchen and Arthur wrote:

: Is that your food in storage?
: What's wrong with my food?

: It's not FOOD anymore, Arthur! It's
Darwinism
.
: *offended noises*
Vukan and Tolo wrote:
: *pun*
: ...
: I take great solace in your flammability.
Vudall, Kaseko, and Magali wrote:
: *finds a strange plant* Hey Vudall you think this is edible?

: No, KasEKO
DON'T
--
: *Already picking off the berries* I should record this find in my journal before having a snack

: Son you put those down
right.
now.
: Hey guys what's- HONEY PUT THOSE DOWN!
: ???
Feel free to share scenes like this! I love seeing little things like this.
Edit: Improved the scene between Arthur and Julchen
Edit 2: these are all amazing.
EDIT 3: THANK YOU DARKFROST
Darkfrost wrote on 2017-07-12:
| | |
| --- | --- |
| | Eryu: Hey Sirel, you wouldn't happen to know where our glitter went, would you? |
| | |
| --- | --- |
| | Sirel: *glittering in the sunlight and sweating nervously* ...why do you ask? |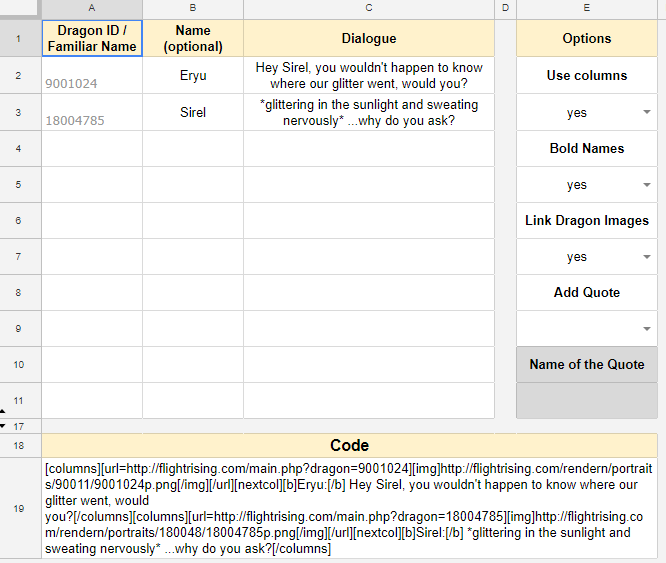 *shows up nervously*
Also guys I made a spreadsheet so that making these should be really easy now
Here's the link if you're interested
(note that you don't need a google account to edit the relevant cells
Also, please don't edit an individual sheet if somebody else is on in (if there's border in another color around a cell other than A1), and remember to close the tab once you're done so you're not shown as using it when you aren't )
*sinks into the ground*
Edit 4: We should write a play or something, or at least make a badge for this wondrous thread
EDIT 5: We now have an achievement! Post a skit and feel free to use it!
Code:
[url=http://www1.flightrising.com/forums/rp/2229894/1][img]https://orig00.deviantart.net/455d/f/2017/256/0/a/skits_achievement_by_starfruit_anon-dbnbwsb.png[/img][/url]
EDIT 6: This has evolved out of my control and I am loving every skit posted here.