Winter was approaching, that much could be told. The air was nippy, frost licking at the last dying blades of grass which crunched underpaw. Whipped clouds crossed the sky, laden with purity and grace that fell only in the virgin form of snow that threatened to sweep the land like a well-bidding mother. It was on these cold plains which two dragons spoke, their breath clouding in iced puffs of steam.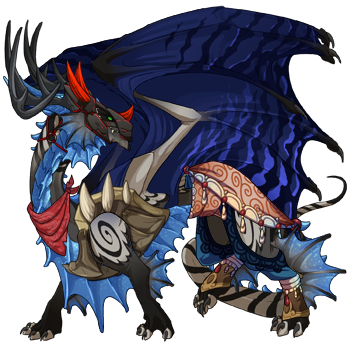 "Do you really think it's worth the risk?" Snapped a Guardian, voice low and commanding like the sound of boulders rolling down a mountain's back. "After all we've been through?"
"We have to try, Kairo. It's for the good of the Clan." Replied the smaller Wildclaw which was the object of the Guardian's anger. Her face was cool, collected, a mixture of motherly compassion and a war-tuned hero's glare. "No one else is planning to stand against Xaveria, and I know you have your doubts."
"Even then, I am sworn to protect her as you once were, Parsuns." Kairo spat back, with clear distaste in her tone. Her tail sent up a flurry of frozen dew as it lashed in her anger, and her voice seemed to rise and carry as she spoke, loud enough to draw the attention of any passersby...