Name: Mania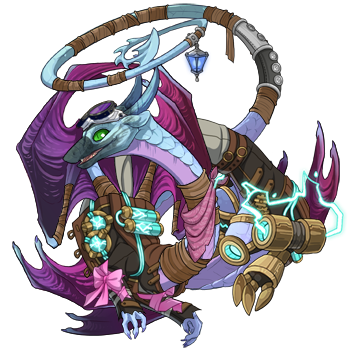 (Am I allowed to jump in the middle of the week? It doesn't specify so I'm not sure.)
(Day 4

D) The lair surrounded by a grove of large and prickly cacti. It seems as if there are electrical devices on the cacti at closer look...a trap or electrical fence perhaps? But if you can get past it by disabling them...)
The thin spiral tinkered at her engine, quite surprised it hadn't started working yet. "
Maybe I connected the wires into the wrong inverted unit?
" She unplugged and plugged back in several cords back into the inverted unit of the engine. It didn't start.
"
Augh! What am I missing?!
" She shouted to no one. All of her peers that had joined her for the festival had gone off to enjoy other things, even her apprentice, Fulgur. "
I need this heat engine done by the time we go back home!
"
She climbed down from atop the engine and sat, mumbling to herself. She was wondering to herself as to why she even thought it was a good idea to bring her project along with her on this trip. This was a festival, she was supposed to enjoy it, not constantly work all the time. Even her apprentice, Fulgur, told her to take a break.
After a few minutes of blaming herself, she jumped back atop the engine and took off the heat insulator and took a look inside. She crawled inside the wires, into the cooling system. That's where she found her problem.
"
You've got to be kidding me! I forgot the gears for the fans in the cooling system! It's blocking the fans from moving and the heating plates from powering up!
" The spiral crawled back out, eager to find the gears she had so absentmindedly forgotten. Only to find that she had none, her peers had taken them all to buy stuff from the holiday favors shop.
"
One problem after another! My goodness, where am I going to find any gears in this place?
" Mania looked outside of her tent and out onto the barren landscape. The tents of her peers, scattered piles of scraps, various cacti, and a plateau were the only things that laid on this landscape. All alone, she decided to take matters into her own hands.
"
That plateau might bare some gifts.
" She got a running start and glided all the way towards the plateau. Seeing as she couldn't fly up the plateau, she climbed up with her fairly sharp and thin claws. She put on her goggles, to guard her large eyes from falling debris.
When she reached the top, she took a long gaze around the new landscape. She pondered her options. She wasn't too fond of asking dragons for things, as there's always the chance they could say no. And she was too small to fight her way past two dragons. It wouldn't be worth it, just for the possibilty of there being no gears in their loot. The little oasis was a possibility, the dragons were sleeping after all and she could get away easily. But the well guarded lair was also a strong possibility.
"
Hmm... perhaps I could disable the fence and squeeze through the cacti. It doesn't look that difficult. From this distance, it seems to be only a simple catch-and-reverse electrical system.
" Mania pondered. After a few minutes, she made her decision. "
I shall disable the fence and grab the gears from that pile. The first and third lairs seem a bit too good to be true, and I certainly cannot get past two dragons on my own. So I shall use my wits to take what I need and get out of here.
"
Mania darted towards the patch of cacti and went to work, disabling it. As it turns out, it was a little more complicated than she thought. What she thought was a simple catch-and-reverse electrical system was actually a double-wired patched electrical system. It's doable but it wasn't something she was expecting just for a pile of gears. Hopefully she can get the loot she needs...