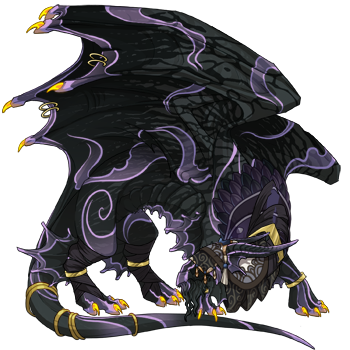 Phlox had awoken that morning feeling more stiff than ever. His torn fins on his left hind leg had been sealed in banadages to heal, but he doubted he would regain full use of them again. Getting up on his legs, he stretched each one and did small exercises to get the blood flowing, Once that was done, he folded his wings and peaked out into his clan. It was still early morning, and only a few stragglers that had been on guard duty the night before lingered in the Foxfire bramble of their home. With a shrug he moved passed the curtains of his den and approached the kill pile, snuffling through until he found a suculant piece of flesh and dragged it out, sniffing around at the fur to make sure it wasn't too old, and he scarfed it down without trouble.
After another few pieces of meat, his belly felt warm and full and he could feel the energy begin to spread through his tired body. He was thankful for the meal, but another glance at the pile told him that their food was getting a little scarce. It was then that he remembered that his patrol had complained about fleeing prey. They mentioned a different energy pulse near the flash clan wall that caused them to disperse, and it was becoming troublesome. He decided that today was the day he would finally make time to investigate into this strange phenomena, and perhaps bring some prey home for Boxcars.
With a salute to the guards at the entrance, Phlox wearily slunk out and into the wood, muzzle low to the ground to breath in the scents around him. Though the plague lands lay to the west, their musky swamps tainted the ghastly smell of stillness in the groves, and Phlox found himself stuffing his nose into the dirt more than once to clear them. He was not in top form today and he regretted every small dip into the ground to clean himself. Though the trodden earth smelled nicely, he needed to be more aware of the traces of prey and potential enemies.
Either way, he spent the better part of his morning following the worn and dizzying paths carved into the land centuries earlier by his ancestors, until finally by mid-day he sensed the pulse. The magic in the air was a buzz like sleep all over his body, and the closer he got the more obvious to him that this was an intense overflow of lighting. Stricken, Phlox worried that perhaps the great walls surrounding Flash Clan territory had a hole and it was causing problems. Idea in mind, Phlox slunk about, low to the soil as he followed the source of the spill.
((I hope this is an okay start. if not, let me know. I am tired and so this is far lower quality orz))
@
CavalloCavaliere