Welcome to the second iteration of the Monster Mash Halloween Raffle! This raffle is dedicated to my favorite holiday & season of the year! I hope everyone enjoys and has a wonderfully spooky fall!

This raffle will run from September 1st to October 31 2021.
If you have any questions, don't hesitate to ask!

Additional rules/guidelines can be found on this post HERE!
As carefully as you can, you pick your way through the brambles and thick woody debris that litters the land around you. The dense trees around you cast darker shadows than you anticipated. After all, a full moon would usually manage to cut its way through any average forest - but this was no average forest... and no average month either. This was the Witching Season.

Your clan-mates warned you. They told tales of terrible creatures and strange things occurring during these months. But still, these old woods beckoned to you.

There were rumors of something lurking here. Some sort of dangerous and ancient magic. But those were just fairytales, you once told yourself. However, as the season grew closer, so too did your need to venture in and see for yourself.

Suddenly, you found yourself in a clearing, moonlight finally penetrating the murk of the woods just enough to make out the bleak shape of an old stone manor sat dilapidating at its core.

The feeling drawing you in grows stronger and without thinking, you reach for the handle and enter. The door slams shut behind you, nearly making you jump out of your skin. You reach for the handle again, trying to take back what you'd done, but it was too late. The door was locked.

Just as you began to think you'd find another way out, a voice calls out to you from the darkness.
"Quickly, over here!"
a small voice beckons. A pair of glowing eyes appears from the darkness in front of you and a tiny paw grabs hold of your hand. You follow blindly, too startled to react. The small figure leads you through the shadows and into what appears to be some sort of storage room.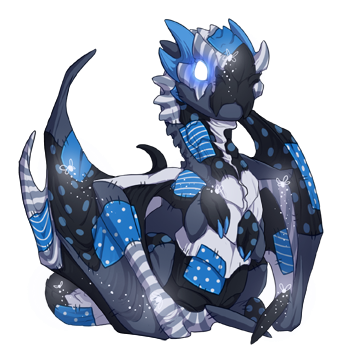 In the dim light, a tiny dragon stands in front of you. It looks like the small dragon is made of cloth and held together with strings - almost like a puppet! You begin to ask what on Sornieth is going in here, but he cuts you off.
Shh! Keep your voice down! My name is Patches, but don't tell anyone you saw me up and walking around, okay? If Alaric... I mean The Puppet Master- finds out... he'll pull my stitches! Actually, do you think you could help me? There's something strange going on in this house, and neither I or any of the other Puppets can leave until I figure out what it is, and destroy it!"
You give him a skeptical look, and make to leave and try to find your own way out of this accursed house.
"Wait!"
Patches hisses, scrabbling to pull you back.
"If you help me, I can give you something too! Uh.."
He looks around the storage room.
"Look! All this stuff can be yours! You just have to help me get out of here!... okay?"