Quarth's Quest Quarry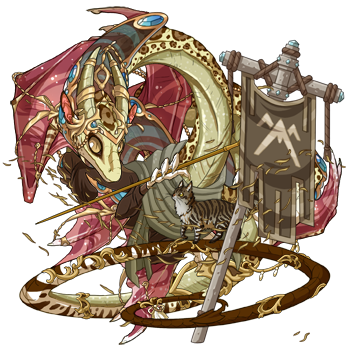 NEW!
Use this google form to tell me which prizes YOU would like to see in the future!
Hidden deep within the mushroom forest on the border between the territories of Plague and Earth you stumble upon a stone quarry. At first, it seemed abandoned, before a voice called out to you from inside one of the large cracks in the stone walls.
"Greetings, traveler! What brings you to my quarry?" the voice called, as the head of a small, brown Spiral popped out of the crack. His bright brown eyes fixated on you. Before you could answer his question, the energetic Spiral continued to speak. "I'm Quarth! Do you happen to have some time to play a game? Of course, there might be a reward if you are lucky!"

"If you do want to try your luck, I have a small board here where I will list things every now and again that I would like to own. If you bring me the items listed, you will earn tickets that will give you a chance at earning a price!" the Spiral smiled as he motioned to a small wooden board that had been haphazardly propped up against the stone.
.......
.......
How it works:
Check the second post for the current board, containing items used to get tickets as well as the current prize!


This will be a weekly raffle, so you will have from Monday to Saturday to purchase tickets with items. On Sunday I will draw the winners and add the next prize and items!


Tickets can only be purchased with the items listed on the board. No gems or treasure unless otherwise stated!


Please send the items for tickets via PM to make it easier to keep track