Chet's Cowboy Festival
---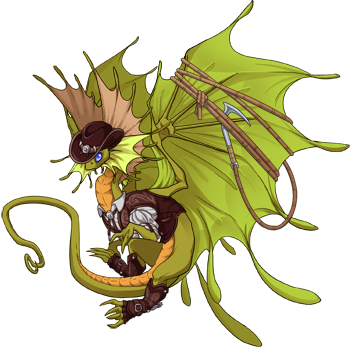 This is Chet!
Chet's a cowboy (cowdragon?) and as you probably know, it's a lot of hard work rounding up the mutant descendants of horses all day. But fear not! He's a hardworking dragon, and what hardworking dragon doesn't like kicking back and relaxing once in awhile?
And what says "relaxation" more than good old-fashioned partying?
So Chet started a grand party. Familiar corralling, unhealthy food-eating, lassoing contests - the whole shtick. And in the center of it all is his prize pool of items amassed during his cowboying career.
He's willing to give out his hard-earned wares to you, but you've got to earn his respect! Don't worry, his respect is pretty easy to earn, especially if you have a few pennies and he happens to be couple cents short of a McChicken.
---
Ends on June 23rd @ 23:00 FR time
It's fine whether you ping me or not, I'm not subscribed but I'll be checking in!
you can earn free tickets in this raffle by completing any (or all) of the objectives below!
non-free objectives marked with a
however, you can also
buy tickets with 1g/1000t each
. pick this option if you truly want your money misspent on gambling affairs*
(Tickets will be tallied at the end of the raffle,
so feel free to take your time and fill them out as you go!
As long as your post's updated by the end of the raffle,
your tickets will be counted.)
Form wrote:
Please only put the numbers you've filled out!
Each task earns you one ticket.
1. Donate to your Dom Bank!
Items, money, anything's good with Chet.
2. Gift bomb another user or two!
Preferably one you haven't met yet.
Making new friends is Chet's hobby.
Galaxy brain: gift bomb someone in this thread
3. Friend request croix!
Clearly someone's lonely.
Would prefer the friendee remain on the friendlist post-raffle!
Pre-friends accepted as well.
4. Tell me about your favorite fictional character(s)!
Harry Potter, a my little pony, one of your dragons.
Chet doesn't discriminate! Say as much or as little as you prefer.
5. Roleplay response! / What is the best Pokemon (type)?
Can be as long or as short as you want!
Role-play one of your dragons at Chet's cowboy party. Will they enjoy the familiar lassoing? Will they hate the deep-fried pillbugs?
If you don't want to roleplay, just list your favorite pokemon or type c:
6. Throw junk at croix!
Quick, this is your chance! When croix isn't looking, pm or cr random things over.
It can be anything from junk apparel to a stack of bottles to an extremely common familiar such as a boolean or a light sprite. Literally a living trashcan.
If it's in the material, food, or other category, at least 99 items total are required.
7. Buy tickets!
Times are desperate. Chet needs his McChicken.
1g / 1000t
Important: Please mention how much you've sent in your post!
I'll be double checking, but it helps a ton if you add it in.
8. Post an animal gif!
Chet herds animals.
It doesn't have to be your animal, but he'd love to see your favorite animal in gif form.
9. Users that make you happy?
Ping users that make you happy and thank them!
If they don't want to be pinged, Chet says don't ping them.
10. Anything else you want to share?
Chet's all ears.
Having a good day? Bad day? Just want to declare that you like frogs?
Anything's fair game to put here!
Bonus Ticket: Draw Chet
Quality doesn't matter as long as you put heart into it, or so Chet says.

Bonus Ticket 2: Put the banner in your signature
Chet put his heart into making this banner. Actually, he just painted his barn door.
Link wrote:
Make sure to remove the * before putting it in!
[u*rl=
http://www1.flightrising.com/forums/raf/2686158/1
][i*mg]https://i.
imgur.com/Yu2MxzI.png
[/i*mg][/u*rl]
example form:
random user wrote:
i hate you chet**

1. donated to nature
2. i gave @/croix twelve billion gems
6. sent 99 broken bottles and a fedora
7. bought 10 tickets
9. @/chantric @/chantric @/chantric @/chantric
i love you four with all of my heart
10. cats are good
*roundsey
** hating chet not recommended