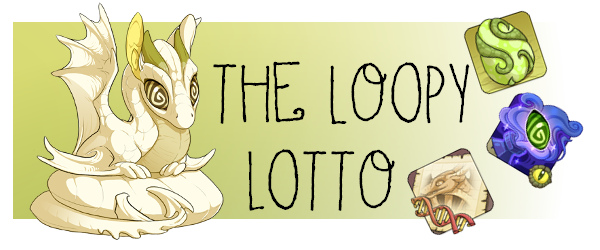 Current Status: Closed!
The Loopy Lotto is a raffle open to everyone with a beginning,
one-time entry fee of 35,000
or 35
. This is to help fund the scrolls and G1s that end up here. It additionally gets you
20 free tickets
for that month!
You never have to pay the entry fee again. After the 20 free tickets, though,
each additional ticket you buy will cost 2,000
or 2
each.
Raffles
begin on the second day of each month
and
end on the last day.
Times will be varied, as rollover for me is like, two in the morning. It will be as late as possible though, normally around
21:00 FR time
.
This raffle will take an unbred G1 either from the Auction House or hatched beforehand that has the element of that month's festival. Said dragon will then be given Breed Change: Spiral and Vial of Hypnotic Sight. New participants will pay the entry fee, granting them 20 free tickets. Returning players will have to buy extra tickets. New participants are also welcome to buy extra tickets. The raffle will run all month long until the last day, where a winner will be chosen. The dragon is sent to the winner as a Spiral with Swirl eye type. The raffle is then offline until the second day of the next month, where it all starts back over.
Once the dragon is given away, it is yours to do as you wish!
Donations!
If you donate to the Loopy Lotto, you can earn free tickets! Here's what to do:
Send me either a
Breed Change: Spiral, a Vial of Hypnotic Sight, or an Unhatched Egg
for the next month's festival and you could get free monthly tickets for
two months
!
Quote:
| | | |
| --- | --- | --- |
| 150 tickets | 150 tickets | 6 tickets |
Note: You can only get a
max of 300 tickets
per two months.
---
---
Top | Current Prize | Tickets | Past Prizes | FAQ | Pinglists | Images
---

arlo
she/her
x
x
x