@
Decaffeinated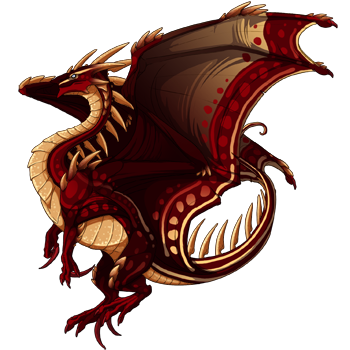 (Also uses Azar from my lair)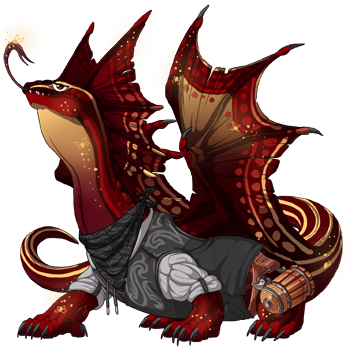 (688 Words)
The fire was edging ever closer. Soon, their entire camp area would be engulfed in flames, the hatchlings remaining in danger.
Her tribe was constantly under attack: from rival tribes, sickness, or natural disasters. This time, a wildfire quickly gained ground from a dense forest far away, spreading swiftly to their current residence.
Most had already escaped, mothers running with their new hatchlings in tow, followed by the rest of the panicking group. Only a few remained, mostly the sick and injured, waiting for a healthy dragon to return to help them get to safety.
Adel, like few others, were among those who were healthy. She and Azar had been working tirelessly to fly injured and sick dragons to the safe place scouts found. They had moved a dragon, who had wings shredded while protecting the rest of the group from a rival attack, unable to fly, as well as two orphaned hatchlings, their father passing before they were born, and their mother in the beginning of the fire.
Now, she and Azar were rushing, flying as swiftly as they could, to help yet another dragon to their new safe place, away from the fire, and hopefully away from disaster. Only a few dragons remained at their old home when they reached it, one, the eldest of their group, and another, a sickly hunter. A group of unhatched eggs sat at the edge of the camp, mostly hidden, but not to the fire. It's red flames shone brightly on the eggs' surface, despite it's distance away. Outlines of the hatchlings inside showed, in the still living eggs.
Azar ran towards the group of eggs, and Adel followed behind. Only two of the four eggs sitting there remained. One was squashed, more than likely from a dragon rushing past from fear, not paying attention, and the other, broken into by a hungry scavenger.
Azar picked up the darker colored of the red eggs in his front claws, and Adele snatched the other, doing the same. The egg lay heavily in her talons, an unknown, innocent life hung in the balance of this fire and it's consequences.
As she'd turned around to follow after Azar, she watched as his tail soared out of her sight. Quickly, she followed as best as she could, keeping him in her sights whenever possible.
She and Azar weaved throughout the forest for what seemed like hours, dodging stray flames and trying not to let the eggs slip from their grip. As they neared an upcoming mountain, they both began to spiral downward, into a ravine, safely protected by stone. Down below lay the rest of her tribe, waiting for the rest to arrive, and orders as to what to do next.
Gently, the two eggs were placed onto makeshift leaf nests for them to temporarily stay in, when more time was able to be invested in making their possible hatching nests of better quality.
As Adel placed her egg down, she heard a small cracking sound come from the egg. Another crack, crack, crack, and a large section of the top of the egg fell off, a small dragonling resting underneath. A small Ridgeback, like herself, sat there, a few pieces of eggshell still resting underneath her claws. Curiously, the hatchling poked the chunk of her broken egg, surprised when she broke it into smaller pieces.
Looking up, Adel began to wonder where her and her unhatched sibling parents waited. She had figured the parents, or at least one of them, would show themselves once their children were born. To her dismay, no one stepped forward as the hatchlings' parents, deeming the newest hatchlings as orphans, their parents probably killed in the fire.
As the edge of the fire began to slowly fade from sight, the tribe began to get to work, settling into their new home and beginning to take care of the tribe's hunger needs, the new hatchling's dilemma aside for now.
Adele began to wonder about her tribe's future, and what it would hold not only for her and Azar, but for the hatchlings she had come to like as well.