Hello new members of Flight Rising! ^.=.^
I have joined during the registration window in October 2014, and everyone was so kind to me and to the other newbies! :D So I have decided to give away dragons when a new registration window opens. This is my 29th giveaway so far! ^w^ I will breed dragons and hatch the nests, so there will be mostly hatchlings. You can see how they look as adults, in the
Scrying Workshop
. :)
If you would like to
take a dragon
, please ping me (like this: @
Ashmore
) so I will be informed about your request. :)
The avaliable dragons are on this page below
. :) If you would like to be
informed when a new nest hatches
, ping me and tell me to put your name on the pinglist, so you will be automatically pinged when a new nest hatches. :)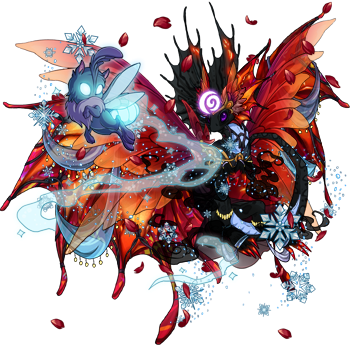 *lands near you, folds her wings, and gives you a kind look*
"Well, you heard her. Our Leader is really a lively one, she always tried not to miss the dates, when new clans are formed. I'm the Substitute Leader of the Black Flames Clan, Kira."
*she looks around, and continues*
"Our hatchlings are eager to see more from the world, we would be really happy if you could guide them along their lives."
*sighs upon seeing some hatchlings bite and chase each other*
"I just hope they won't cause too much trouble... or won't trick you guys too much"
*
Also, I accept
donations
from "veteran" players if someone would be so generous to do so. :) Donators if you have special criteria, please
include your rules in the donated dragon's bio
, so newbies won't forget about them. :) If you would like to donate more than once and maybe you have planned nests to give away, tell me, and I'll include them in the pair-list. :)
However,
I'll only accept donations until my last nest hatches
, because I don't want this thread to go on longer than it should. :)
I don't accept any more donations!
Special thanks to the donators:
Kaboomafoo, Succubuslust, Cery05, Kimmeh79, TyrNjordr, DarkDragoness, flux500, DaemonLords, Leystrider, Zith, PalominoPrincess, TheUndeadLords, Necrosie, Kineldi
Read the rules! Please. I wrote lots of useful information down there. ^^
Be nice to everyone! :)
One dragon can be claimed daily/person.
First come first served.
This is for the newbies who joined during the December welcome week.
I would like to ask you to name your dragons as soon as possible. I don't like, when I'm looking for my dragon's offsprings, and I find unnamed ones. On top of that if you would be about to exalt one in the future, that dragon would have a name when it's about to serve your deities. :) Treat these dragons well, and the first step to do so is to name them. ^w^ I hope you understand if I say, that you should name your dragon first, and you'll be able to recieve your new dragon only after that.
If you would like to exalt the dragon you choose, I sincerely ask you to name the little derg! :) No dragon should serve their deities without a name, and it's always upsetting to find exalted Unnamed dragons. :(
Also, the donator's criteria will be under the dragon pictures highlighted with red. I think that it's the least thing to follow these wishes, since the donators were so kind to offer their beautiful dragons for you. If you request for such dragons, please tell me, that you've read the donator's rules. :)