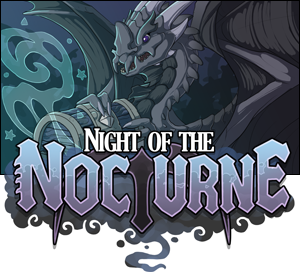 Hello again everyone! I am still looking for volunteers to help out with these events, and as always donations are greatly appreciated!


Please make sure that all donations go through me to avoid mix ups!


Volunteers please let me know what items you have given out on your own so that I can mark them off the list.


VOLUNTEERS: XenoSpirit, Prescott, Tafficat
Items Given Away wrote:
x7
x4
x8
x3
x3
x3
x2
x2
x2
x2
x4
x3
x2
x2
x2
Welcome to DanceswithPlants Night of Nocturne Give Away!

I will spend the rest of the event, until January 2nd, gathering chests. Since the chests have random items inside I will instead be giving away the listed items inside instead of the chests themselves. Please take a look at what is available for this years give away!


Chest Items wrote:
Unique Items
Familiars
Apparel
Items will be given out as first come first serve, and a user may only sign up for 1 item from each section at a time, you can be added to other lists once you get the item you requested. If you get the item you were looking for on your own please let me know so I can remove you from that items list :)

+Rules+
1.) If you wish to be added to the pinglists for an item, ping me in this thread and include the name of the item(s) you wish to be put down for.
2.) Items will be given away in a first come first served manner. You may only sign up for one item per section at a time.
3.) Unfortunately since this event is timed will not be able to guarantee everyone that enters will be able to receive their desired item.
4.) Please be kind to me and all other users, I am not obligated to give you an item.
5.) If you end up getting the item you requested on your own please let me know so other people have a chance of getting that item.
6.) If you would like to be pinged for the next festival please add your name to the Google Doc posted below!