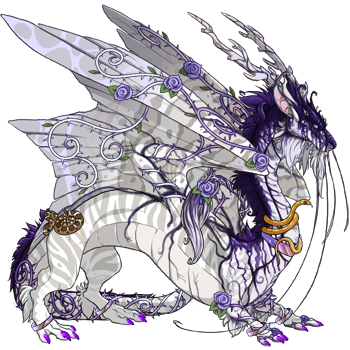 This is Salamandastron
Salamandastron is an odd dragon who at a young age decided to take a vow of poverty. Since most dragons are prolific hoarders of gems, items, and treasure, this was a very odd thing for him to do. Especially for an Imperial, who are notoriously one of the most proud and noble of the dragon breeds.
But Salamandastron did not want to be like his kin. He didn't see the point in the lavish, hollow, riches. Rather than hoard treasure he wanted to hoard experiences. He wanted to go off and see the world to gain a wealth of knowledge and strength rather than treasure. He wanted to humble himself enough to experience the true nature of Sorienth and its residents - from dragon to beastclan and all in between without the distraction of glittering coins.
His peers of course laughed at him. "But you're so plain! You need genes! You need accents! You need apparel! And you can't possibly protect yourself without battle stones. Those cost money! You can't get them on your own!"
But Salamandastron shrugged. "I bet I can attain all that and more without taking a single coin. You'll see."
And so he left his clan, the laughter from his family fading into the distance, only fueling his determination.