USERNAME:
 Zif
PLAYER ID#:
 176969
DRAGON NAME:
 Cinnaminny
DRAGON BBCODE: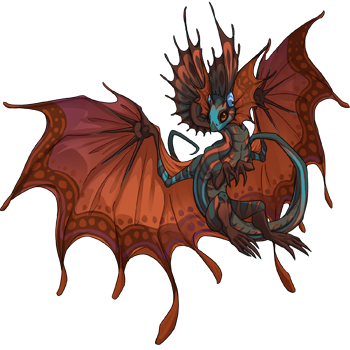 TOP THREE FOOD GROUP PREFERENCES:
Grain train, Superberries, Uneggsposed
DRAGON'S FAVORITE FOOD ITEM:
 Root vegetables and basically anything else that you can boil down into a good stew or soup.
DRAGON'S LEAST FAVORITE FOOD ITEM:
 Cinnaminny considers sweets a pointless waste of time. She attempted to make cake soup once and now considers the whole experience an inexorable stain on her pride.
DRAGON'S PERSONALITY:
 Cinnaminny is not unpleasant, but she is stubborn and responds very strongly to being ignored or to people not listening. Expect very literal banging of pots and pans until she's heard. Teamwork can be an issue! On the bright side, she is rarely intimidated by a world much, much bigger than her, and she has no issue standing up to anyone.
DRAGON'S MAIN SKILLS, ABILITIES, OR KNOWLEDGES: 
Extreme ladle proficiency: Just let her know if there's anything you need dramatically pointed out, or if theres a soup you need picturesquely sampled. Ladles aren't actually good for anything else but hey.
Boiling proficiency: A long life of boiling most everything goes a long way. Not scared of heat in the kitchen.
Experimental: Why not try what noone has done before? Typically don't work out very well (unspeakable cake incident), but if you need someone to try a spice they've never seen before she's your pick.
ANYTHING ELSE I SHOULD KNOW?
  I'm assuming that favorite/least favorite food items don't have to be canon food-compliant (as in, they don't have to be insects because she's a fae). If they do, let me know and I'll change them up. Thank you for hosting, this looks fun! @
snek
Also, I feel compelled to post this doodle of minny that I made a while ago.