USERNAME: Alligatorsight
PLAYER ID# 118679
DRAGONNAME: Coast
url=
https://flightrising.com/main.php?dragon=55779156
]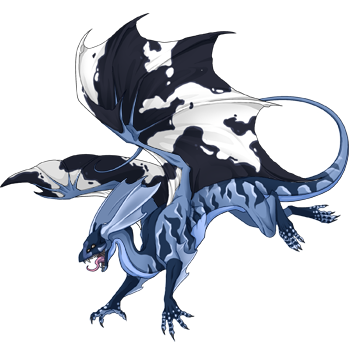 [/url]
DRAGON'S TOP THREE FOOD GROUP PREFERENCES: fish, energy bars, and nuts
DRAGON'S FAVORITE FOOD ITEM: coconuts
DRAGON'S LEAST FAVORITE FOOD ITEM: beer
DRAGON'S PERSONALITY: Coast is pretty much a provider when it comes to making sure her clan is well fed. She is not a born killer, but hunting and solving mysteries is her specialty. Coast is active in politics but not quite a celebrity.
DRAGON'S MAIN SKILLS, ABILITIES, OR KNOWLEDGE: Coast is a very talented hunter, and survivor. She picked up a lot of technology knowledge when she moved to Alligator Clan.
ANYTHING ELSE I SHOULD KNOW?
Of course. Coast is a Rank 3 in a group of female mirrors which the clan refurs to as the pack. The pack is responsible for doing all the hunting to feed the clan. Aside from holding a R3 badge, Coast has trained another mirror who now holds the same rank as Coast. When it comes to hunting, tracking, solving puzzles or even negotiating a business deal, Coast is very talented. Her disadvantage is she has little battle experience.