Signups
|
Discussion
|
Lynch
Introduction
|
Participants
|
Game Information
|
Rules and Guidelines
|
Mechanics
|
Credits and Links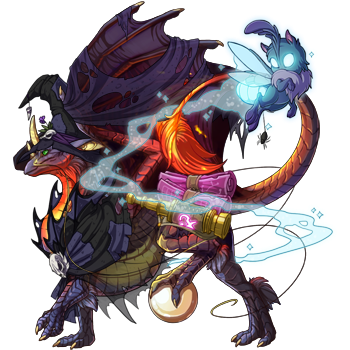 The lights hanging in streams across the streets of the market cast multi-colored hues on the sand. The desert of the Shifting Expanse has been packed down specifically for the millennial markets. Shifting Emporium. What an interesting name for this market and celebration for the Carnivale. Tents line the streets in wildly zig-zagging, crooked rows. The maze they create has you as enthralled as the wares you see.

Colors shift beneath your feet as dragons move in their stalls and send the strings swaying. The merchants of the market are as mysterious as the market itself, and their wares reflect arcanic lore you'd only heard stories of as a hatchling. Everything seems unique and valuable, and you wonder how such a heaving mass of merchants can still all have their wares individual. You've yet to see a duplicate anywhere.

"Pssst!"

From the alley to your right, you hear the sound of someone looking for your attention. Shrugging, you decide to walk deeper into the alley. You think briefly on what wares you might find here. Perhaps a legendary sword, or enchanted battle armor. Arcane tomes thought lost to the ages, or the one small gift for a clanmate you've been searching for and didn't realize. You've already found several of the last, and have a few clanmates you've yet to get something for.

There's only a few other dragons around compared to the masses lining the streets you just left, one of them a male Pearlcatcher whose shimmery, fire-tinged scales reflect the colorful lights dully. He's sitting next to a stall idly spinning his pearl between his claws. He notices you and allows his face to make something of a smirk.

"Ah, good, you joined us," he said, front paw trapping the pearl's motion as he stands. "Would you like to play a game?"
This game is a non-RP game. You should be interacting with this game as yourself, not through proxy of a dragon or other OC. Roleplaying in this game is highly discouraged.
This game will be fast. Game days are only 22 hours long, with a 2 hour lockdown to make a full 24-hour day. If you cannot commit to an estimate of 5-7 days of this, please do not sign up.
By way of this, this game will be VERY reading-heavy. This is not a game you can play for 30 minutes and then put down to come back the next day. You will likely want to be online for extended periods of time, and/or multiple times a day. Expect this game to reach 300-400 pages in length by the end of the game. Do not be surprised if this game has 80+ pages in the first day. Day 1 tends to be the most intense day in terms of length, but subsequent days will still be reading heavy. As a potential measure of length, last year's TCC mafia game, Boss' Beach Party Mafia, ended up over 400 pages long and 7 full game/IRL days.
There is no enforced length limit or minimum for the game to run. This game will last as long as it takes for one faction to win. Based on game design, I do not expect it to last longer than the festival week, but it may extend up to two days longer.
This game will be role-heavy. Expect to have some kind of role with an ability, though the extent of power may vary. While this game has been balanced to the best of our abilities, it has not undergone stringent review. Things may still be game-breaky and swingy. Your mileage may vary.
Expect this game to also be emotionally intense. While I and my comods do seek to keep this game as a safe environment to play productively and, ultimately, have fun, things WILL become heated, especially as the game goes on. Mafia is a game of social deduction and argument. People will needle you and aggressive play is expected. Arguments will most likely be contentious, if good-natured, and does not mean anyone in this game dislikes you personally. If you feel something is getting out of hand, however, please do not be afraid to bring it to our attention.
Ultimately, I hope you have fun while playing this game!
Basic Information
Hosts/Moderators
: kirkfan2255 and Arelia (with help from backup host Tsaiah)
Game Style
: Non-RP (roleplaying your role is highly discouraged)
Setup Type
: Closed (setup details are not public knowledge)
Power Level
: Role Madness (all players have at least one ability)
Player Count
: 20
Phase Length
: 22 hour days with at most 2 hours for lockdown
Start of Day
: 17:00 FR for Lockdown start, 19:00 FR for Day start
Start Date
: July 21 at 16:00 FR
Experience Requirement
: None (Newbies welcome!)
Activity Requirement
: 3 posts per day phase minimum, at least 5 suggested (if you are consistently making minimum posts only, you may be asked to post more)
Expected Volume
: 50-60 pages on average per 24 hours, 80+ on Day 1 only.
Mechanical Complexity
: Medium-High (multiple roles and abilities in play, some unusual mechanics)
Alignments Possible
: Single group-scum faction, potential for third party alignments
Lynch Type
: Plurality only (highest number of votes receives the lynch)
Flip Type
: Full reveal (flavor name, abilities, and alignment)
B/astard Elements
: Potential for deceptive night results (eg Godfather, Miller, etc.)
Out of Thread Communication
: None except by role only
Hydras
: None allowed
^ Top