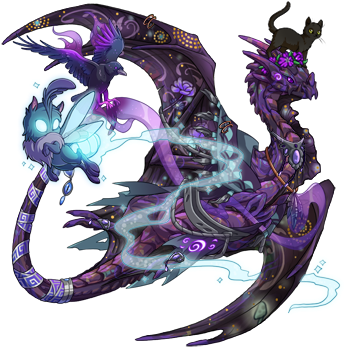 I am Binder – the dragon hostess of the Trickmurk Tri-riddle stall - one of the many events of the 2018 Trickmurk Circus. This game will run from February 11th through February 17th, with the final posting on the 18th.

For your entertainment I (and my daily guests) will offer three three three riddles for you to solve.
DO NOT answer the riddles in this thread or in the forum!!! No – that would be giving the answers away. Answer these riddles in a private message to my lairspirit, Emberglo. (Note: there is no 'w' in Emberglo.) Just read the riddles, figure out the answers and send her the message with the answers. If you don't know all three, answer one or two but please guess at them. There will be prizes!


Here is a clue for you: All the answers can be found in a HOARD, or somewhere on Sornieth or found in Flight Rising. (Not necessarily your hoard but in some hoard somewhere. Probably Emberglo's - just sayin'!)

The next day the three three three answers will be posted along with three three three new riddles. A prize will be given away to three three three winners. Rumor has it these prizes are gold, silver and bronze copper! How very TRICKY! The winners will be chosen from those who answered the riddles by a random number generator applied to Emberglo's private 'Spreadsheet of Wonderful Participating Riddle Guessers'.

This game will continue until all 21 riddles have been posted. Then the final answers will be listed on the 18th and those gold, silver and bronze copper prizes will be awarded.

THEN – more prizes will be awarded!!! Anyone who answered even one riddle – right or wrong - will be automatically entered into the final Trickmurk Tri-riddle prize giveaway. Three times three winners will be announced for three times three more prizes – and these will be special prizes. (That means NINE more prizes will be given away - even if you didn't get any of the riddles right.) PLUS again this year there will be a prize for daily Bumpers - those who moved us from the spooky realms of the dreaded Quests and Challenges forum to the TOP (but only once a day please) - YOU will be entered into a special prize raffle for ...err ... Bumpiness!

So Sunday, February 11th, come right here to see the first three three three riddles, presented by my first guest, Wyldyrn. See you then!


(Thank you thank you thank you to @/Sanrixian and @/ElectriWinter (header) for the wonderful art.)
Trickmurk Tri-riddle game created by Emberglo for Trickmuck Circus 2015, 2016, 2017 & 2018
All prizes donated by Emberglo with Shadow helpers