I've been toying with the idea of a legacy challenge for a while, but I kept telling myself that it'd have to wait to take up lair spots until I was done with my masterlist challenge which is currently taking up lair spots. And then I got and idea and I impulse-bought my first dragons. This is deeply in debt to the
original FR legacy challenge
as well as the
RNG-based spinoff challenge
, the many extra rules and naming schemes people in the legacy boards have done, and, ultimately, the Sims.
So here's the deal: I thought it would be cool to have a dragon whose ancestry goes all the way up through the alphabet. Meaning that the founders of the challenge both have A names and then the heir and its mate have B names and so on until we get to Z. This is more insane than a normal legacy challenge mainly in that normal legacy challenges have 10 generations and this one will end up with 26, if I make it all the way. I think, in the end, it will be worth it.
The particulars:
For every generation, I'm going to search for dragons in the AH under 20k of the appropriate gender.
I'm then going to go through page by page and buy the first dragon I see whose name starts with the appropriate letter (meaning I'm only buying pre-named dergs!) once I check that they aren't too closely related to whoever I need to mate them to.
We wait
Once the nest hatches, I'm going to hand-pick the heir, since everything else is pretty random.
The heir will be named by clicking the random button until I get a name with the right letter, or if that takes too long, I'll find a random name generator somewhere that will let me input a first letter. I used to use one all the time.
I'm also planning on only buying triple-gened dragons so that the legacy at least stays interesting, but I have no restrictions or say in what genes other than that. It's supposed to be random.
And that's it! Here are Atlas and Alun, the babs I picked up for my first gen who are going to be ready to breed in about a week: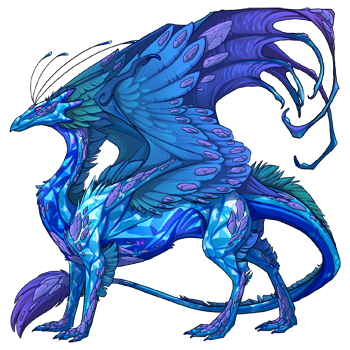 They've got a
pretty big range
, especially considering they're probably gonna be poitox, but I'm excited.
If anyone else is interested in joining along, go right on ahead! I'd love to have some friends on this crazy journey. I don't have any fancy scoring systems for you because I've never really liked them, but the original legacy challenge ones could probably be applied pretty well here. Also, some people have been using the firstborn or a random number generator or some complex mathematical theorum to pick the heir, it's all up to you. Just do whatever you want! And buckle in, cause this is gonna be a looooong ride.
Edit: After an unintended year-and-a-half hiatus, I was surprised to find that this thread was still going! I've decided to remove the pinglist that was here since I don't know if the people who signed up a year and a half ago are even remotely interested and honestly I have way too many forum replies and pings to ever go through them all. If you'd like to be put back on, ping me and maybe we'll get another one going.
Also, I'm picking mine back up again I guess! About to breed my C babs. Which means everyone here has far outpaced me, haha!