On an outcrop at the Pillar of the World, lies a tent bedecked with finery. Even airborne dragons notice the glinting, kaleidoscopic light coming off the many jewels affixed to it. Despite the reports of Death Seekers with nests full of costume jewelry and dragons with airborne crash injuries, the tent glitters as strong as ever.
You decide to stop by after hearing about the enigmatic dragons manning the tent. After shaking off a pile of glitter, you push your way into the tent and a young dragon steps forward, grinning: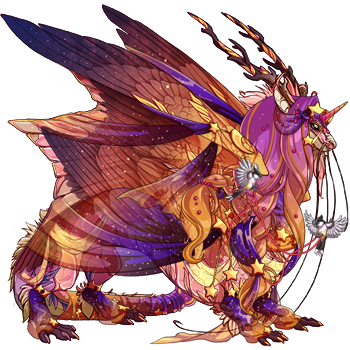 Welcome, visitor! This is Sunset Outfitters - between light and dark, we have all you want! My name is Caron, how may I be of service today?
You look around the tent and it seems larger than it looked from the outside. Every apparel imaginable lines the tent's walls and a large enough mirror for an Imperial stands in the center as faerie lights circle it, casting patterns of light all over the tent.
The shiny jewelry that gave the facade its distinct appearance is nowhere to be seen, instead, the tent looks like a normal outfitter's brick and mortar store, yet you can't help feeling there's more to this tent than meets the eye.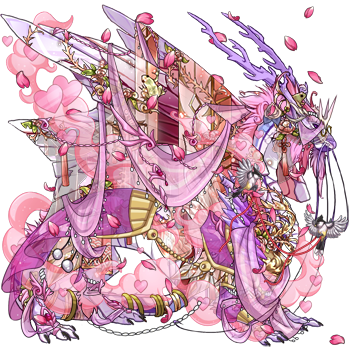 Near Caron is another Imperial, sitting by a large sewing machine and behind him, piles of fabric and gemstones lay glittering. You notice as he nods to a few couriers that bring ready-made Sylvan and armor from the forges of the Ashfall Wastes.
Oh, that's Fulong. Our resident tailor and my dear mate too.
Caron answers with a small smile on his face and he seems to drift off a bit, a blush tinting his cheeks. You cough and he looks at you sheepishly.
Ah, would like to get an outfit done? Or perhaps one of these ready-made ones? We just got a fresh shipment of Sylvan,
Caron drops to a low whisper,
after chasing those folks over at production, Fulong's been in a quite a mood really. Isn't that right, dear?
The last sentence is directed over to Fulong who just grunts without looking up from the Starsilks he's putting together.
Anyways, what would you like to do today? Get a new outfit done? Purchase a pre-made one? Or perhaps you'd to be informed of our new releases?
Caron smiles at you as he steadies a mannequin.
NOTE: You don't have to RP if you don't want to. RP is just here to make things fun ^^