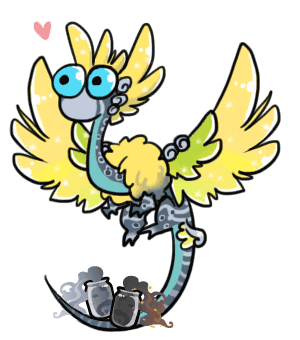 * A hoarder Coatl CoralReef seems happy with lovely Gyre bottles *
Hiya! Is there any trinket hoarders? C:
What we're looking for wrote:
My dear Coatl boy hoards
these two pretty bottles from Gyres!
AND NEW FEVER wrote: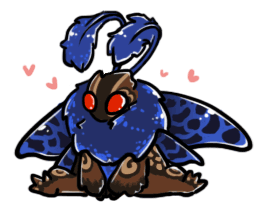 YEESS ALL THOSE MOTH DOLLS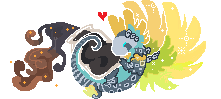 * Please help me make him happy *
I'd love to trade other trinkets I don't need for these bottles.
(I'm not buying them, sorry!)
Trade would be based on Sell Value of trinkets, maybe quite roughly.


(Unless rare trinkets like deity dolls or so)
If you want to trade bottles for Non-trinkets, I'll go with the different rule.

Non-trinkets like Swipp / BBB items or so, I'll value them by AH lowest price.

But I may decline your offer if you want the item I'm also collecting/in need.
What I have wrote:

Any Material/Other trinkets I have!
(Exclude most of Swipp items)



I mostly do SCAVENGING and sometimes DIGGING.
But I newly started HUNTING from Feb. 12th!

I also have COLISEUM DROPS.

Just tell me what are you looking for!


Things I won't trade for wrote:
I'm also collecting
things for Swipp
.
So
most
of Swipp materials are unavailable. Sorry.
(Some things are available, like Tiny feathers or so)
**
I also hoard :
so I'm sorry but I'm not trade these for bottles.
I also collecting Marva's super awesome colorful threads! wrote:




Oh yes I NEED THEM
+ Please ask me if you're hoarding something else!
+ Don't forget to
PING ME
! :D