--
Hello there, stranger! Have you read the Wings of Fire book series? No? Well, do you plan on reading it? No again?! Then why are you here?
--
For those of you who
like or have an interest in the Wings of Fire book series by Tui T. Sutherland,
welcome! This is the hub for Wings of Flight Rising, a new fan group based around the series. We have/will have many sub-forums, such as book discussions and fandragon sharing. If you wish to join, please post on this thread and give me, @
EPICdragon99
, a ping! This will also work for sharing ideas for the group or asking questions.
--
You might be wondering: Who's the
*cough*slightly off-colored*cough*
Seawing who shows up in all the headers? That's
Frogfish,
our mascot! You see, for the Colorwheel Expansion, I hatched an egg that just so happened to have Seawing-like colors, so I decided he'd make a great OC/mascot!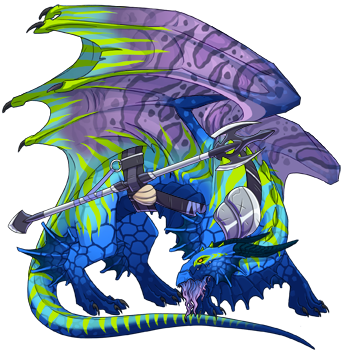 This is Frogfish here. His genes are now complete! 8D
He is a low-ranking palace guard who mostly helps clean up the Royal Library, and hopes to one day become a famous writer. He is often ridiculed, however, due to his low ranking and the fact that he tends to write speculative fiction stories about the limits of animus power that most dragons think border on the ridiculous. He tends to do his writing in secret, but will often hide it around the library to see if anyone will be interested. Despite having good claw-writing, he is actually rather clumsy, and he has to stay on his toes constantly to keep any messes he's cleaned up from becoming messy again. This can make him a bit anxious and tired, but he tries to at least look calm and alert, even if he'd rather smile and have a short-but-meaningful chat with everyone who passes by.
(Feel free to give me a PM about what you think of the character! I certainly don't want a cringeworthy face for the group!)
--
What can you do on this specific thread?
You can:
--Have
discussions about the books (spoilers tagged, please!)
Code:
[spoiler] *spoils your book* [/spoiler]
--
Sign up
for the group
-
-Discuss and suggest new activities
for the group to participate in
--
Chat
with other members