Hello, everyone! We have a poll for you!
---
What Happened
As the pending updated gene error tracking thread was being worked on earlier today, the opportunity presented itself to also get some corrections out the door—including Flair on obelisk dragons. While reviewing reports in the old gene error thread, this gene/dragon combination was determined today to be inconsistent with the manes of other dragon breeds.
Unfortunately, these corrections included Flair for obelisk dragons, which had been launched with the incorrect colors, determined to be incorrect today, and very few knew they were mismatched from other manes until today's update went live.
This is our mistake and we apologize for the upset, confusion, and breaking of your trust that this update caused today.
In the interest of full transparency, this was an honest human error, born of a desire to be productive and efficient, within the context of pandemic burnout.
Because the error colors of Flair on obelisk dragons are so loved, we agree we messed up here, and especially due to the fact this was a featured image, we want to put this into the community's hands and allow your voices to be heard:
Poll: Flair Mane Color Future
From now until December 31 at 06:00 server time you can vote on what you as the community would like to happen with Flaunt and Flair.
Do you want all manes to look like the obelisk manes originally did, or do you want all manes to look like pearlcatcher, skydancer, wildclaw, imperial, and tundras originally did?
Vote in the survey below, not in the forums please!
No dragons get sparkle manes and have the gradient that was originally used in Pearlcatcher/Skydancer/Imperial/Wildclaw/Tundra.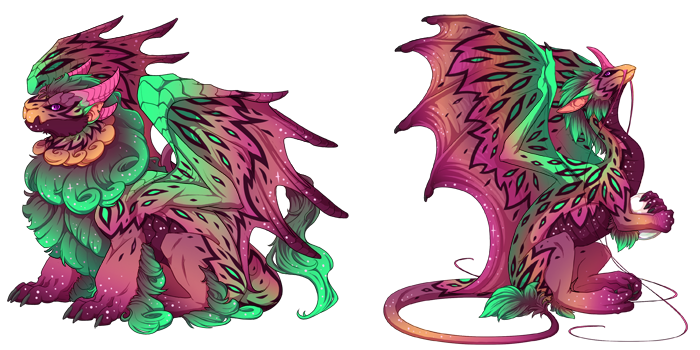 All dragons get sparkle manes and have gradients like obelisks originally had.
Obelisks get sparkle manes and unique gradient. Everyone else gets no-sparkle manes and original gradient.
---
Thank you for your understanding with this. We're all up against the pandemic burnout wall, much like everyone else. We made a mistake, and we are sorry for that mistake. We hope this poll and opportunity will help make amends.
In the meantime, we're working on getting the updated tracking thread up for you ASAP so this doesn't happen in the future, because this shouldn't have happened today, either.