Quote: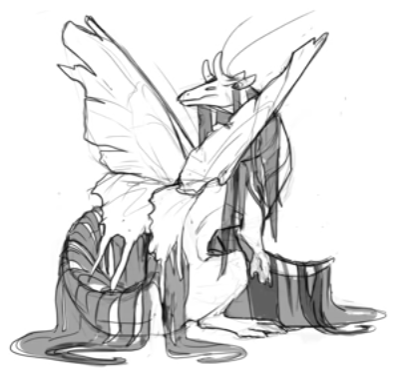 Please bring back the butterfly wings!
Not a real big fan of the design of this dragon so far, but I love these wings. Definitely bring back these wings. *A*
Also, just my two cents, but I don't think the hair fits if they're going for a more insect feel? It just feels hugely out of place (and makes the insect parts feel hugely out of place). I'm kind of hoping they will make the hair a tert gene. I really don't like how it hides so much of the dragon. If they keep the hair, the placement needs to be changed so more of the dragon's body can be seen. Otherwise we'll never see much of the primary designs, and that'd be a shame. There's been a couple of edits shown off in thread that help a lot with this.
As for things I do like, I love the body shape of this dragon, head (and eyes), and all. Very slinky. Very different feeling from everything we have gotten so far. Not really getting the Pearlcatcher vibes everyone else is getting though.
Also, I don't mean to come off so negative, but I love all the breeds we have so far, and I
want
to like this one. But... I just cannot get behind that hair. Not with insect features. I think they should either go all in on the insect vibe, or ditch the insect parts to come up with something that goes better with the hair. It just feels like two completely clashing themes are trying to be smashed into one and it's hurting the overall design. To me, anyway. I respect that a lot of people are liking the design so far.