On
September 19th
we launched
Mistral Mahjong
, our newest Fairgrounds game!
As part of a planned
technical balancing period
, we're reviewing ways to continue to improve the game. Specific updates will be gathered below for easier reference.
September 24th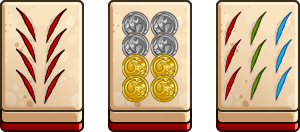 Several tiles have been updated to reduce visual similarities. This include some coin tiles (7 & 8) and most of the slash tiles.
The Wind Rune layout has been updated to match the other layouts in difficulty.
The "shuffle required" indicator will no longer display when the final tiles in a level are in a single stack. Clicking a stack containing all remaining tiles will complete the level.
The high score screen no longer requires reloading the entire game to display the most current high scores.
The victory screen is less likely to be dismissed with an accidental double click when completing a level.
November 12th
The payout for completing the Bamboo layout has been increased to match the other layouts.
A bug causing iPads to repeatedly alert players while in full screen mode has been fixed.
The How to Play screen now includes the four seasonal tiles. Seasonal tiles can be removed by clicking any other seasonal tile, even if the season is different.
*It may be necessary to clear your browser's cache to view some of these changes.
~
Flight Rising Engineering Team
~
-
Do you want to hear what I said again? Hoot hoot!
Flight Rising
Knowledge Base
Flight Rising Rules & Policies