Please can I be added to the event pinglist?
Username:
Lundlaeva
User ID:
13217
Dragon Name:
Stark
Dragon Picture: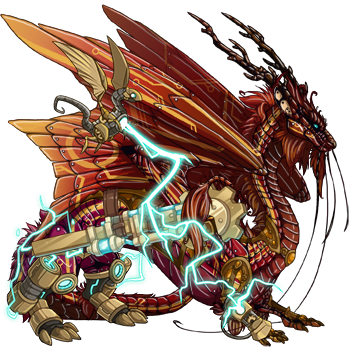 Stark really didn't know why he kept coming back to Curious and Curios. But sometimes he did find a piece of fascinating technological treasure in amongst the junk - or "antiques" as his golem Jarvis more tactfully put it. Unfortunately that usually meant a run-in with Eugene, and this time was no different.
Until it suddenly
was
different.
Stark was used to his attention wandering when the old coatl started jabbering on about whatever - but not like this. Not fixating on one item. Certainly not touching it without even intending to reach out!
The loss of control was as horrifying as the softly glowing tattoo that was now etched onto his arm and chest. Stark stared at it. Then he stared at it some more. It moved when he moved. It was - for better or worse - definitely
part of him
now.
He suddenly wished he'd taken the time to augment Jarvis's scanning and diagnostic capabilities.
Ignoring Eugene's 'joke' about payment and Jarvis's nervous chirp of, "Sir?" Stark swallowed the nausea crawling up his throat and tried to roll over and get to his feet.
((Stark is my go-to dragon for Lightning Flight CYOAs - I've done 3 with him so far, and he's had some
Times
. XD But his misfortune is always fun for me, anyway. :P
I love him really!
Looking forward to another adventure this Thundercrack!))