Drat. I totally forgot to fill in my form on Day 2 so now I'm behind. OH WELL, catch-up RP coming up for my own (silly) story purposes ...
---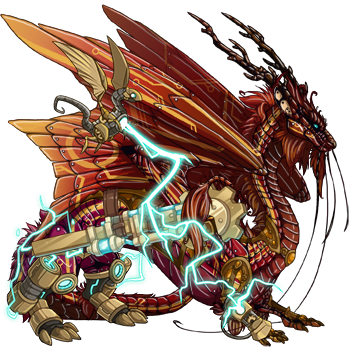 > Follow Andraste
Stark had to admit that he was genuinely impressed by Andraste's ability to put together some kind of explosive device from bits of pilfered scraps while on the run - he would never admit it aloud, but in the privacy of his own head, he didn't think
he'd
be able to do that.
However, his plan to get more information out of the Skydancer had failed spectacularly - all he had learned was that there was a "Captain Serious Face". Worse, now he was on his own, looking for some dragon called Enzul, in a rather disreputable-looking bar. The looks on the faces of the patrons weren't particularly friendly, and the Ridgeback's honey-smelling blue mead just looked downright suspicious.
Stark once again found himself regretting that he had never got around to installing more advanced sensors in his golem companion. If only Jarvis could have scanned the drink and told him it was safe (or not) ... but it was no use dwelling on what-ifs.
Plus there was the fact that he still didn't feel quite
right
after the whole touching-the-bracelet, getting-the-tattoo debacle. Pelting through the streets and almost getting blown up hadn't helped his ringing ears and throbbing head much either.
"Uh, no," Stark said, faking regret as best as he could under the circumstances. "I
don't
think so."
---
((I really wanted to drink the mead, but I think Stark wouldn't so here we go.))
---
> Don't drink the mead
Stark was really getting tired of all the fleeing he was being forced to do because of the stupid bracelet-now-tattoo.
The Ridgeback had let him go easily enough, to his intense relief - he wasn't up to fighting a bar full of dragons in his current condition. However, his situation had gone from bad to worse when a member of the Reclamation Bureau caught sight of him. The fact that they ended up in the sewers thanks to the clumsy Mirror was just the icing on the cake.
Taliesin, as he introduced himself, looked like he wouldn't be much of a match for Stark's technology-augmented magic and armour, so he could fight his way out of the sewer ... but he was an official.
While Stark wasn't an enormous fan of authority, but he couldn't very well start attacking people who were just trying to do their jobs.
However, he couldn't guarantee that Taliesin (or the Reclamation Bureau) would listen when he said that he hadn't done anything wrong. Well. Apart from
technically
shoplifting the bracelet, but it hadn't actually been his decision to leave Curious Curios in the first place - and he'd happily return the bracelet (with no small amount of relief!) if someone could just figure out how to switch it back from being a tattoo!
Presumably Enzul could do it, if he ever found him?
No, his only choice was to make a break for it.