Welcome citizens, to the 57th Weekly Hunger Games! Every Sunday, 24 tributes will fight for glory, fame, and most importantly, riches!
The Victor will receive a life of ease back home, meaning they will be rewarded with 40KT, 20 Gems, and a dragon, which they are free to do with as they please. They will also receive a badge as proof of their victory. The Victor will then have the opportunity to participate in the Quarter Quell, which will offer amazing prizes fit for a veteran Victor!

Please fill out the form below to volunteer as Tribute. Make sure to ping me, @Spriggan!
Dragons Name:
Dragons Image: (an image that leads to your dragons profile is preferable!)
Preferred Pronouns:
Preferred District:

Rules
1. You may only enter ONE dragon.
2. Please refrain from entering past Victors, they will have another chance during the Quarter Quell. You are free to enter a different dragon though!
3. If a District you wanted is already filled, your dragon will be placed in the next available District.
Happy Hunger Games, and may the odds be ever in your favor!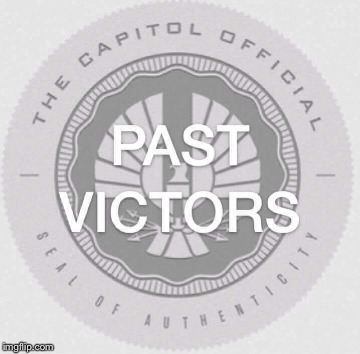 Quarter Quells
We now have a Discord server! Chat, hang out and talk all things Hunger Games! Send me a PM for an invite :)



boo

S p r i g g a n

boooo

The results of hard work always seem like luck, but know you've earned every bit of your success.


•

shop

•

coli services

•

goals

•