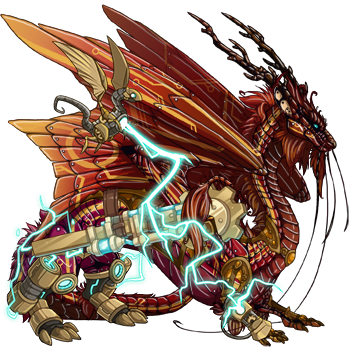 "My sensors indicate that your wing may be broken, sir," Jarvis said, his modulated voice rising in alarm as Stark peered over his shoulder at the place where the armour plates covering his wing were dented and pressing uncomfortably into the bone and tissue underneath. Stark winced, but he was glad that he had the metal to support the weight of his injured limb. He shrugged off Jarvis's concern.
"Nah," he gasped, "It's fine. Just a - ah! - bruise."
Or not, given the sharp and insistent pain.
Jarvis gave a disapproving hum, culminating in a static spark off the metal plate the covered his head. He fluttered around Stark's wing, his chest sparking as he tried to take some more readings, talking quietly to himself to record his findings.
However, whatever was wrong with it wasn't going to get better instantaneously: Stark could feel that. At least his armour would keep the bones in position and supported, if they were broken, until he got out. He needed to get out of this cave. He didn't even like caves. Why had he come here again?
Sighing, Stark took in his new surroundings: he could go back the way he had come, or climb up the slope created by the falling stones. The dark hole below didn't look too promising, and there was no guarantee that the rockfall hadn't caused the passages below to collapse too. He didn't want to get down there and squeeze between the stone threads again only to find his way blocked. Better to continue onward and upward.
"C'mon, Jarvis," he said, and started to pick his way up the new path,
hopefully
towards an exit.