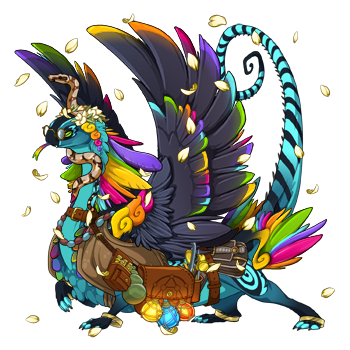 "Welcome everyone! We've got a new set here so be careful walking around this is gonna get crazy."
A small Coatl captures your attention, and with a shy smile she continues.
"I'm the new intern, course no one told me I'd be on the show, but ya know,"
she sighed
"I never get told anything!"
She lead you to a large office room, filled with tons of characters from your favorite shows, books and movies. You shoot Toto a curious glance.
"O-oh, did you not notice when I surveyed you, that you got assigned a person? Well look, friend, you're casted for the part! Congrats. Oh, oh here's the boss, take a seat and he'll explain what's going on."
"Alright everyone gather up! Seems there's been a change in the script, and there are
actual killers
in this group. Crazy right, I know. Soooo, Queen Pup thought it'd be a riot if I pitted you all against each other in her sad replica of a Hunger Games island to let you all duke it out."
He paused, heaving a sigh.
"I don't make the rules I just follow them. Like you all will do. Come with me and I'll show you to where you need to go!"
He filed out of the room then, leading you all to a large open space just a few miles up the way, it was hastily put together and are those….fake trees?
"Yeah yeah, Pup's pretty lazy. She only took about ten or so minutes to get this all set up but oh well." He shrugged, looking to you all now.
"Alright, starting now, I'll be leaving you all to do your thing. The killers know who they are, but not everyone knows who they are. Those who are innocent must try and find these killers before they kill you and wreck your show, got it?"
He looked sternly to a few faces of the group
"And I don't wanna be cleaning up your mess got it, you make it you clean it."
Ahem
"That being said I'll head off now, but things have changed a little. Our Stylists have all elected to drop out, now that this is a death game, but Toto remains, so I'll hand it over to her. I'll see those who survive!"
With that the Coatl took to the air, leaving you all alone in the wilderness with a very excited little dragon.
"okay guys! See me? I'm an untouchable NPC, meaning no one can hurt me! Isn't that cool. However, I can't stop you all from hurting yourselves. Every night you can vote to lynch someone you believe to be the bad guys, but the bad guys can also kill every night, how scary?! Buuuuuut, I'm a neutral party here, so, alongside the vote to kill someone you can vote to talk to me and I may just help you out."
She giggled, then shooed you all away.
"Go! Go! Go! Go kill everyone trying to find the baddies!!!!"
________________________
Players:
Werelynx
Littlefirefly
Died N2
Rin Okumura, Town
Shadowlugia711
Silverwinter
Quamosthy
Stormdreamer
VivaFariy
LordMalak
Murdered N2
Captain America, Town
Rosetta248
Childofnaga
Sansationalmew
KanayaChopin
TheHeroicOne
Marchhare
Murdered N1
March Hare, Town
Cognitive
Smolperidot
Nerasis
Reynutocx
lynched N2
Edward Elric, Mafia
Taxahasman
Gwendolyn
RavenWolf
Anika
Frayxing
Jumpscared
Died N1
Deadpool, Survivor
Replacements:
Kapara
Luxmold
Ladyplague
Spectators:
Lyxla
Ambrose
Sonyaaxel
Craneoflores
Xspideray
Epioth
Links:
Discussion--- here
Signups---
here
Lynch---
here
EOD1--
here
EON1--
here
_____________

Day 0 starts now, and will end 9/15 around 16:30 FR time.
Toto may be consulted.
@werelynx @littlefirefly @shadowlugia711 @silverwinter @stormdreamer @Quamosthy @vivafariy @lordmalak @rosetta248 @childofnaga @sansationalmew @KanayaChopin @Theheroicone @marchhare @cognitive @smolperidot @nerasis @Reynutocx @taxahasman
@gwendolyn @ravenwolf @anika @frayxing @jumpscared
@kapara @luxmold @ladyplague
@lyxla @ambrose @sonyaaxel @craneoflores @xspideray @epioth