Hi everybody ! First of all, here is the derg responsible for all of this :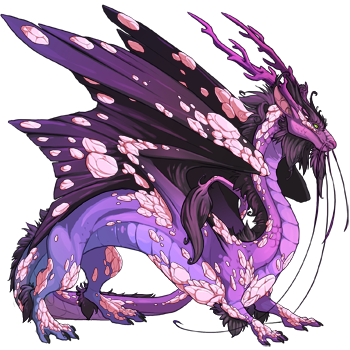 Purple/Shadow/Rose irishimbond
Sterein wasn't supposed to stay in my lair at all, but he was the last of his clutch and still not selling. After a while, I just found him more and more cool and had a foreboding I was going to keep him. His name comes from my vague thoughts of "well, this one's a stray that's going to stay in my lair. Hey, let's call him Stay In. Or Stray out. Or Sterein. But stay on is cool too. Let's have him a twin brother so I can have a Sterein and a Strayon. Oh and they could have this backstory of..." etc etc.
Funny thing ? Only four other irishim imp (i'm poor, so can't gene anything but the tertiary) with those colours exists and as a twin, the future Strayon absolutely need to be of wind clan ; and anyway those four dergs seems very well loved. I also need the future strayon NOT to be related to Sterein for bio purpose and especially not as a son, so I can't even breed it myself.
So all of this is why I come to you today,
to see if anyone could breed this dragon, Purple/Shadow/Rose iri shim and wind clan
, and
for the pinged people, if two of you would be interested in helping me ! Payement can be arranged without problem.