The Nightingales: A Generational Breeding Project
Arietna and GreyMorning met and found that they shared a passion: healing warriors. Mind you, they enjoyed a good battle themselves, but they were determined to ensure that warriors received the attention they were due to ensure they could return to the field another day. They decided that they would find others that shared in their dream, and develop a project. Thus, Lunara and Zoroaster as well as Thalia and Pollux joined in their mission. They named themselves the Nightingales. These three couples decided to produce children who could go out into Sornieth, be trained as fighters, and serve as healers and field medics.
The lovely Arietna:
The charming GreyMorning: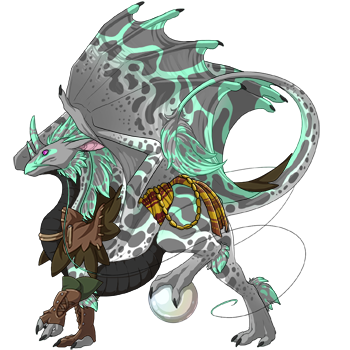 Rules of the Project:
All Nightingales will be given a number to indicate how closely related they are to these three founding pairs. Arietna and GreyMorning, Lunara and Zoroaster, and Thalia and Pollux will be Generation 0. Their children will be Generation 1, their grandchildren Generation 2, and so on.


Nightingales always exhibit Poison and Toxin for their Primary and Secondary Genes. Grey Toxin is especially prized, as it is shared amongst all the founding parents. However, grey range is preferred. Primary and Secondary color ranges from Maize through Shadow. This is required. However, there are no requirements for Teritary Gene or Color. This is where they wide array of variation will come in.


Once a dragon reaches level 15 it can be listed formally in the Nightingale Registry. At this point, it can be bred, and its children will be eligible to train to become formal Nightingales as well.


Hatchlings will be listed for free. One parent must be a trained and Registered Nightingale in order to be considered a Nightingale in Training. (The only exception to this is to the original founding pairs, as they are the Founders.)


Do not interbred Nightingales, as this will cause issues in tracking the Generations.


Once you adopt a hatchling, it is yours to do with as you please. The purpose of this project is to grow the family, so I would prefer that hatchlings be raised, trained, and have children of their own, so that the family can grow and their healing abilities can spread.


If you decide that you no longer want your dragon, then please attempt to rehome it in this thread, or contact me to try to take it back, prior to other alternatives.