!!! So I love seeing peoples dragon representations of themselves ! I have a pair of dragons for me and my boyfriend @
skynd
!
this is Vinny , he is my dragonsona ! He is actually a dragon that my bf bought to originally represent me in his clan ! But he went another route and gifted him to me !! He is very edgy , and has a goblin man attitude , he likes to act big and tough but really he is just a big soft baby !!!!
His familiar is the tuxedo floracat because I have a cat who is a tuxedo cat named Squeaker ! and I like the floracats like that one bc their tails look like corn stalks and i am from Indiana !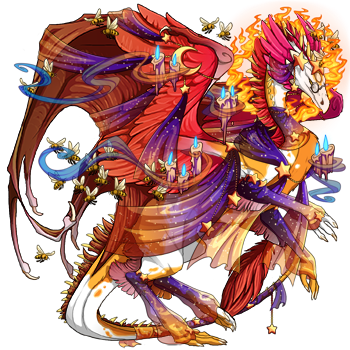 This is Phoenix he is my boyfriends dragonsona I made up for him ! Skydancers and my bf's fave species of dragon ! and he likes the poses of the females better so we just like to say his dragonsona is trans like us !!! and Phoenix's dragonsona is a gentle baby who would cry if you raised your voice at him , he and Vinny are very lovey dovey and love everyone !
So yeah feel free to show me your dragonsonas !!!